July 21st, 2009 - 5:05 pm KY Time
Howllo Fellow Basset Hound and Flying Basset Hound Lovers! I have a friend in FL who loves to do agility with some of her basset hounds. Her name is Karen, and she actually is the gal who has Chaps Dad.
This is her hound Cassidy making a hurdle. Look at his determination!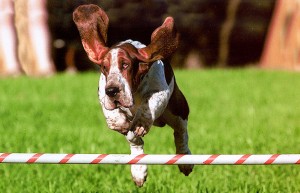 This picture gives me such inspiration to jump over my hurdles. You MUST click on the picture to see the fantastic detail.
I just printed it out and now it hangs in my office. I want to look at it every day!
Thank you Cassidy!
More beautiful bassets bounding and flying later……….Love, Cat, Chaps and Emma

Comments(6)