January 20th, 2010 - 7:07 pm KY Time
Howllo Fellow Basset Hound and King Lovers! The King of bassethoundtown needs your help! NOT CHAPS! Chaps is the Mayor! JB is the King!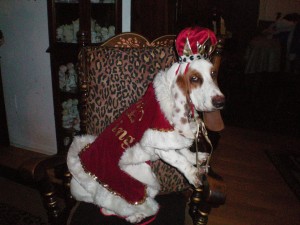 JB is the reining King for Suncoast Basset Rescue located in FL. He really wants to retain his title but he needs our help! He was wondering if you would take a peek at his Firstgiving page. If you cannot donate at this time can you pass it along to all of your friends?
I for one cannot imagine JB as a lowly subject in the year 2010. Look at his regal gear! He was made to sit on a throne!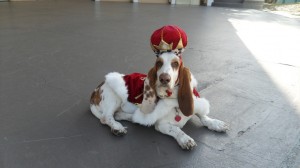 Lace ears reign supreme!
Wanna see a cute video of our King?
Help JB retain his title and remain the benevolent ruler that he is!
More King updates later…..Love, Cat, Chaps and Emma

Comments(5)