April 21st, 2012 - 12:12 pm KY Time
Howllo Fellow Basset Hound and Birthday Lovers!  Yes, it is our darling Shimlettes birthday.  She is 8 years old and I can hardly believe it.  As many of you know she was little first born!  That does not surprise me in the least.  I wanted to share this photo of her hours after she was born.
It is a massive image.  If you click the pic it is about the same size she was at that time.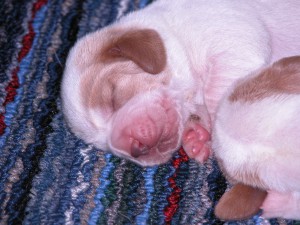 Wonder howl many times that snooter has been kissed in 8 years?
Luckily, I pay for a top tier hosting package from my website provider so I can take up as much space as I want!  This picture is worth every penny!  hehehe
Of course I will be posting her 8 year old birthday pics later today.  We have 2 favorites.  I would love to know which one you like better.  I will choose mine also.
EMMA WANDA RUDERT – AKA – EARLY MORNING MISTY AIR (Named by Grandpa after her Mom, Dawn's First Light.)
More loving our big 8 year old later….Cat, Chaps and Emma

Comments(8)