April 23rd, 2012 - 2:02 pm KY Time
Howllo Fellow Basset Hound and Queen City Tour Lovers…..
Well, back in 1970 you could see these signs all over Cincinnati and the surrounding areas.  Now, they are just faded reminders of a once great idea.  I notice a few of the signs are still up, some are tilting and hanging like lost souls.  What ever happened to this great idea I wondered?????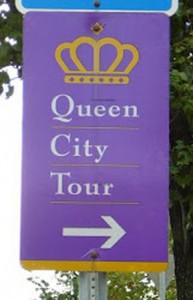 So, who do you go to when you want all of the answers?  GOOGLE!  I found this website….
"In 1970, the Greater Cincinnati Beautiful Committee in cooperation with the Chamber of Commerce created the Queen City Tour. The purpose of the tour was to introduce visitors and locals alike to all of the scenic and historical sites that the city had to offer within a 2 hour car ride by following the purple and gold signs.
My goal is to visit all of the sites on the tour as well as add some that aren't on the original and along the way, share what I have learned. I hope you enjoy it!"
I was beyond thrilled.  This was exactly what I was looking for.
It was the perfect day for a basset hauling vehicle ride.  So we gathered up our queen….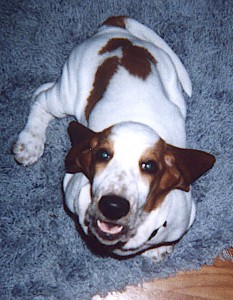 and King and set out on our motor tour of the Queen City.
We promptly got lost after the first sign but interestingly we weaved our way to our lunch destination hitting about 7 of the stops on the list of 88.   All in all we hit about 20 spots but not in order.
Our lunch spot (number 14) was Rookwood Pottery which is somewhat famous for it's hamburgers, not to mention it's world famous tile.  Here is Grandma sitting in one of the kilns used as a dining area now.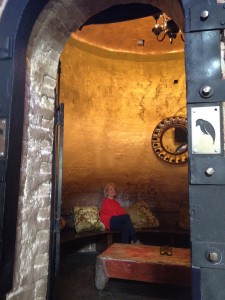 Can you see why the burgers are so famous?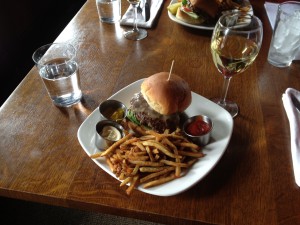 It was the perfect day for the motor tour because we could leave the kids in the car with the windows cracked while we had lunch.  I never leave them in the BHV unless I can see them and the weather is PERFECT!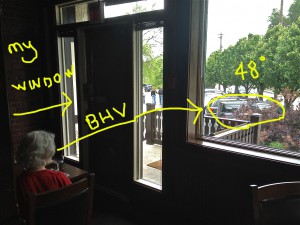 We just ask the hostess and they can normally get you a great seat.  If not, we leave.  No biggie!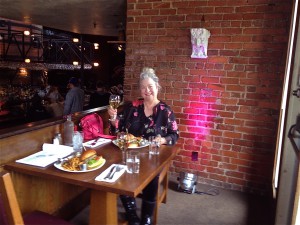 So, after we got lost and had lunch we ventured around Mt. Adams, a quaint little area and hit about 2 or 3 more stops on the Queen City Tour.
It was cold so we didn't get the kids out for much more than a potty break.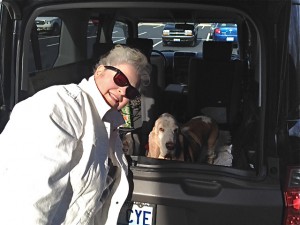 We can't wait to hit the rest of the stops.
This one was really cool!
OK, well that is all for now.
More Queen City Touring later…..Love, Cat, Chaps and Emma

Comments(3)