September 20th, 2012 - 12:12 pm KY Time
Howllo Fellow Basset Hound and overnight lovers….
I racked my brain, but I don't think I have ever spent the night away from Chaps or Emma. I don't think it would have been too much of a worry if our Emma was still around.  She was soooooo brave. Chaps, not so much!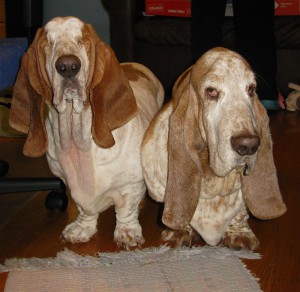 So, it was a worry when I had to spend the night over at my nephews last night.  Of course the Mayor had a huge cushion, his Grandma was with him!  We went over his calming treatments and she gave it all to him before she went to bed. Himz even got warm compresses on his hip areas.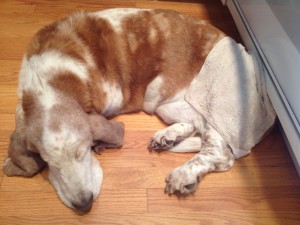 It was worth a shot to see if she could get a good nights sleep in her own bed.  But low and behold about 5:30am the Mayor started howling and crying.  Himz was confused and scared.
Grandma had to rush downstairs to his aide. She was the port in his little storm.
Maybe a little more lavender?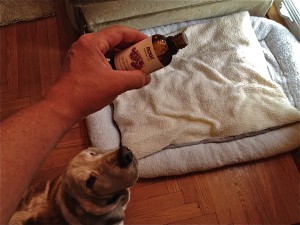 Funny thing is, I woke up with a start exactly at 5:30am.  Probably an energy connection.
Grandma sat with him until I got home but first I had to see to my charge!  The times they are a changin'.
Frosted Flakes, Facebook, and oh yeah…Math! The breakfast of champions while multi-tasking!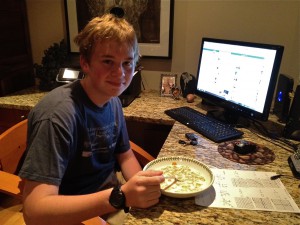 Anyway, all is back to normal for my champion.
Thank you Grandma…Love, your Grandhound and Mayor…Chaps Rudert
More loving Grandmas later…Cat, Chaps and Emma ATB

Comments(5)