December 28th, 2012 - 11:11 am KY Time
Howllo Fellow Basset Hound and Resident Lovers….
I just want to come out of my haze and thank you all so much for the outpouring of comments and e-mails.  I have also received a lovely concrete bench and some flowers for Chaps memory.  I will being doing a much more detailed blog on that later.  Rest assured it is beautiful and very touching to Grandma and I.  Again, I will enjoy sharing more information/pictures about this later.
It has been very hard and I know many of you have lost hounds in the past.  For some reason we always think (or I do) that our particular hound is the best and their passing is the worst ever.  Funny howl that works.  But I do know one thing for sure.  Chaps was sure loved by all of his residents and I know that he was a part of your life too.  He was the esteemed Mayor and we all looked up to him.
This is a picture of the day I picked him up after the long, long drive to TX.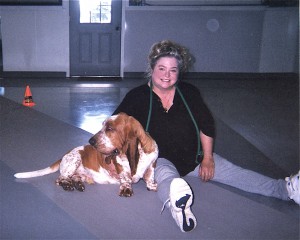 I call it the picture of TWO LOTTERY WINNERS.  We both won the life lottery.  What were the chances?  At this point Emma had be put back with her litter.  She was so excited and jumping all over Chaps and he just wanted to be with me.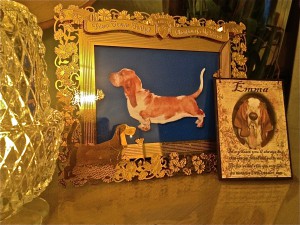 Again, thank you so much for caring so much about our town and our Mayor and of course Grandma and I.
More blogging about reality later…Cat, Chaps and Emma ATB watching me cry….

Comments(7)