January 1st, 2013 - 1:01 am KY Time
Howllo Fellow Basset Hound and Tonight and Tomorrow Lovers….
Colby Chaps wanted to check back in again….
Tonight he partied hardy…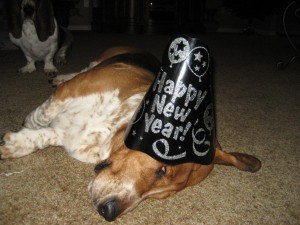 And tomorrow is a new day…
Resolutions need to be thought through….
Do the residents have any?
Grandma and I are actually going to buy a tread mill.  Hopefully we use it!
More loving Colby Chaps and his efforts later…Cat, Chaps and Emma ATB getting lots and lots of walks on green green grass.

Comments(3)