January 2nd, 2013 - 9:09 pm KY Time
Howllo Fellow Basset Hound and O lovers…
Well, we have the boys over for a few days.  They came baring a gift of condolence for the honorable Mayor and their cousin Chaps.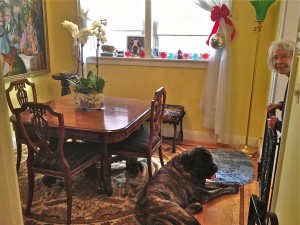 I put the delicate flowers on the table.  Grandpa used to always call Chaps "the delicate soul" so the orchards are very fitting indeed.
I was sitting at my desk when Romeo and Enzo came in from the back yard.  We picked them up and I left them outside to smell around as usual.  Romeo came in and over to me with a look on his face that I recognized immediately.  It was the face you make when you meet someone in distress and ask, "What Happened?"  He was so concerned.  His head tilted and his brow furrowed.  I told him (now Enzo was at his side")  "Chaps is all gone."  Of course I explained this all in full detail but the part that he understood the most were the words, "all gone".
I can tell they are sad.
It is good to have them around.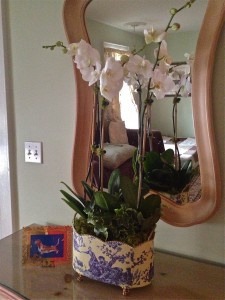 More loving caring cousins later….Love, Cat, (Chaps and Emma ATB) napping under orchards…

Comments(12)