January 5th, 2013 - 1:01 pm KY Time
Howllo Fellow Basset Hound and Patty Bag Lovers…I have let things get a bit behind in our town.  Of course I have been in somewhat of a haze and very sad.  The residents have been so kind and caring.
It was the night before New Years Eve and I was wandering around the house.  I was getting ready to close all of the drapes and looked out the front window.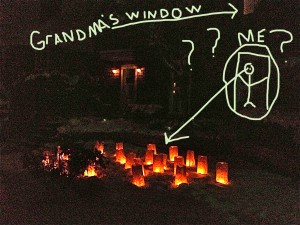 So, I stepped outside and looked closer.  I had my camera with me and called Grandma to look out her window.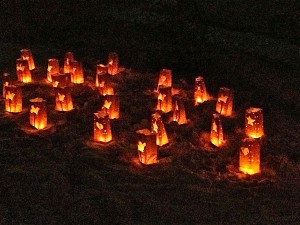 Wow, it was so quite and beautiful.  I really could not believe my eyes. They were red and swollen, was I seeing things?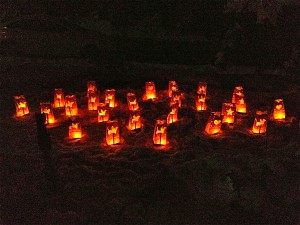 Of course I took a closer look and I had that catch in your throat that you get when you are choked up.
I noticed that the basset cut out on the bags was actually a cut out of Chaps!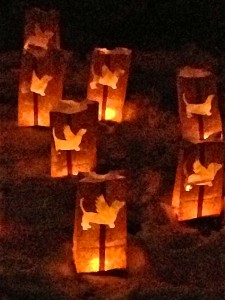 See….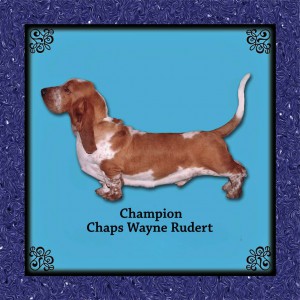 Of course I noticed that immediately.  Then, out of the corner of my eye I saw a red mini cooper idling down the street.  I thought I saw the shape of a basset head in the front seat.
Well…I know of only one red mini cooper that is driven by a basset and that is Nosey.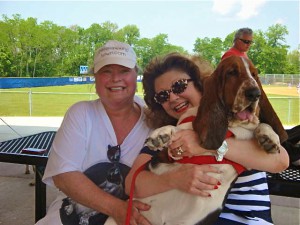 Hum…here we are.  Nosey, her patty, her Mom Marcie and myself at one of our basset hound walks.
I e-mailed Nosey but her Mom said that she was not sure what Nosey had been up to???
We all know bassets can be very sly…..
Those glowing bags were such a blessing that night.  It was a very hard night and the cut outs of Chaps, hearts and stars warmed my soul….
I am going with Nosey…Thank you darling girls…..
More loving warm souls and warm patties later…Cat, (Chaps and Emma ATB) stacking in the snow…

Comments(14)