January 21st, 2013 - 8:08 pm KY Time
Howllo Fellow Basset Hound and next Mayor lovers…Well, our little Daisy Lynn, with the full endorsement of the late Mayor Chaps Wayne Rudert will be the next Mayor of Bassethoundtown!
Howl ever, she has one more hoop to jump through and that is her medical clearance.
So off we went to get that squared away. Grandma of course offered moral support.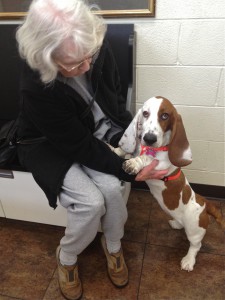 We all wish her only the best of health in her newly elected position of Mayor.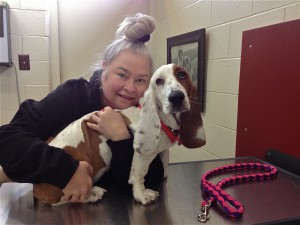 She passes with flying colors!!!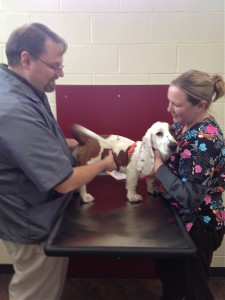 Grandma and I whisked her off to her inauguration ceremony which took place in the blue room.
Daisy Lynn is using her Grandma's Bible given to Grandma from her Mother's best friend, Ida back in 1956.  With her paw placed firmly on the family Bible, Daisy Lynn Rudert takes the Mayoral oath of bassethoundtown.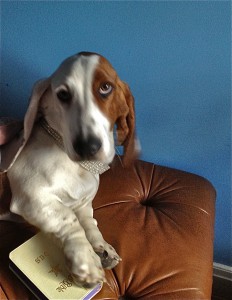 Tonight will be a flurry of activity as she greets her residents.  Daisy Lynn will be wearing a heavily beaded peacock velvet shaw loaned to her by her her Mother.  She will also be wearing a beautiful rhinestone collar that was left to her from Emma Wanda Rudert.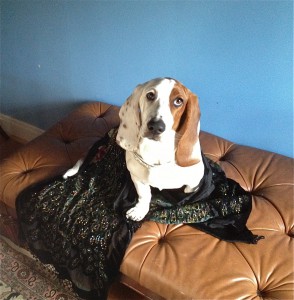 Daisy Lynn will have very big paw steps to follow and she will do so with benevolence and grace.  We all look forward to her life long position as Mayor of bassethoundtown.
Welcome Daisy Lynn.  We love you!
Much, much more to follow later….Love, Cat, Daisy Lynn, (Chaps and Emma ATB) beaming with pride!

Comments(13)