January 24th, 2013 - 8:08 pm KY Time
Howllow Fellow Basset Hound and all tucked in lovers…Well, our young Mayor is home and we are so glad.
I carried her up the back stairs, out to potty, and then she crawled into bed.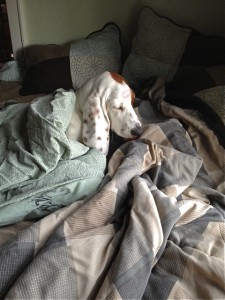 Grandma made sure she was covered up with the famous Emma gully.  Daisy was shivering a little bit and the Emma gully was the perfect answer.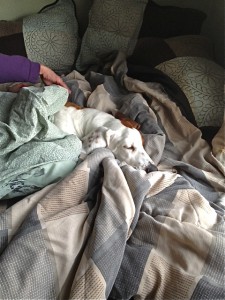 I think we are in for a full night a rest and healing.
I am so glad that our girl is over this procedure.
Thank you residents for all of the well wishes for Little Baby Daisy Lynn.
More tip toeing around the town later…Love, Cat, Daisy Lynn, (Chaps and Emma ATB) loving the gully has now been passed down…

Comments(8)