January 24th, 2013 - 1:01 pm KY Time
Howllo Fellow Basset Hound and out of spay surgery lovers… WHEW…Gawd I hate waiting but today it was hardly any wait at all.  We were out the door at about 8:40 this morning.  I planted the customary lipstick kiss on the forehead for good luck.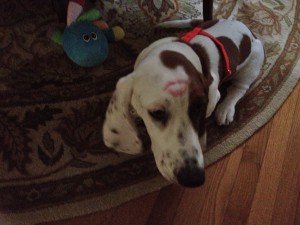 Then she was signed in and she was first in line for her procedure.
See that picture behind her?  hehehe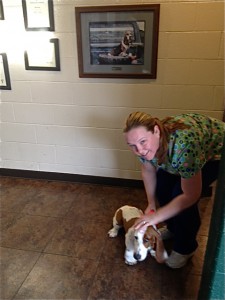 Then she was whisked off down the hall.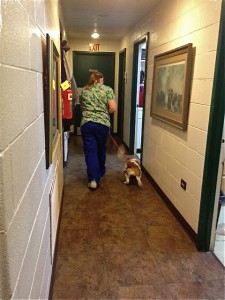 An hour and a half later I got the call that she did great and was waking up!  Grandma are going to pick her up at 2:30 sharp!  The doctor said she was very, very close to going into heat.  If at all possible you want to spay prior to the first heat cycle to prevent the possibility of breast cancer.
I am just so happy she has this checked off her list.  Now we will get her all healed up and before you know it spring will be here with all it's glory.
Thank you residents for holding our paws through all of this.
More loving getting her home later….Cat, Daisy Lynn, (Chaps and Emma ATB) sending healing drool…

Comments(9)