February 5th, 2013 - 7:07 pm KY Time
Howllo Fellow Basset Hound and the wonders of a sunset lovers…
The sun was setting behind our Daisy Lynn and in a split second I captured this!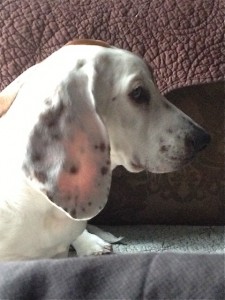 The sun was creeping in behind her ear.
Daisy Lynn has been doing some barking and she has a beautiful low voice.  I am anxiously awaiting her first howl.  Hope I can capture it on video…She is really blooming!
More loving sunsets and pink moments later…Cat, Daisy Lynn, (Chaps and Emma ATB) howling at the sunset

Comments(5)