February 12th, 2013 - 3:03 pm KY Time
Howllo Fellow Basset Hound and 7 month old lovers…Yes, indeed!  Our very own Daisy Lynn, the young pup is 7 months old today.  She woke up ready to start her day about 2:47am!  Luckily she went back to bed until 6:50am.  Let the playing being!
Click the link for a short video of the play baby!
Happy 7 months on earth baby Daisy….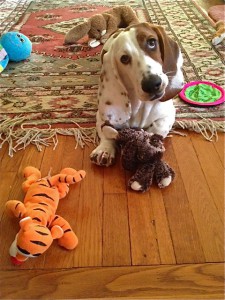 Many More Moments to come….Love, Cat, Daisy Lynn (Chaps and Emma ATB) eating cake…

Comments(12)