March 12th, 2013 - 12:12 pm KY Time
Howllo Fellow Basset Hound and Larry Lovers….hehehe
Crufts, as many of you know, is the big time dog show over in England that happens every year.  Kind of like our Westminster dog show up in New York.  They put out some fun shots of the dogs and one of them was Larry.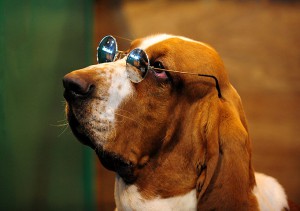 What a dignified looking Chap.  He looks like he is saying,
"Can an ole bean get some tea and biscuits if ya don't mind, Ta"! 
If you recall, last year the winner of the basset hound group could not advance.  If you are deemed a high risk breed for being unhealthy from breeding you must go to the vet check area.  The basset hounds were so unhealthy in the past that they were put in the high risk group.  This year the basset hound passed the vet check and was able to advance to the hound group.
I cannot say enough good things about this rule.  I absolutely love it.  Health should come before beauty and that is my bottom line.
Larry was not the winner of the hound group but he was my winner for most charming!  Good health to you Larry, you already win in beauty!
More loving Larry later…Cat, Daisy Lynn, (Chaps and Emma ATB) voting for health checks at American dog shows.

Comments(6)