March 12th, 2013 - 7:07 pm KY Time
Howllo Fellow Basset Hound and 8 months lovers…Yes, it is the 12th of March and our newly appointed Mayor is growing up.  Grandma and I planned a photo shoot today for her.  This has never, in the history of bassethoundtown photo shoots, ever happened.  We got our shot on the first try.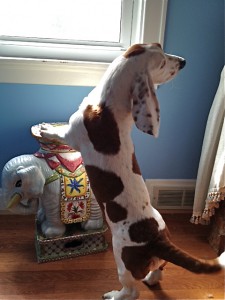 It was so perfectly artistic that we just kissed our fingers and said, "Bella"!
More 8 months of love later…Cat, Daisy Lynn (Chaps and Emma ATB) providing the sunlight…

Comments(8)