March 13th, 2013 - 7:07 pm KY Time
Howllo Fellow Basset Hound and Resident Lovers.  Kerry, aka OneMom, lost her beloved Nell today.  Nell went over the bridge and Chaps was waiting for her.  He makes sure all of the residents are greeted and shown over to rainbow section of bassethoundtown which is located by a billowing infinity of marshmallow clouds, brilliant green soft grass and a never ending blue sky full of love.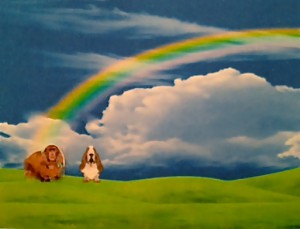 Nell leaves behind her very special family and her bonded partner, Sophie the basset hound…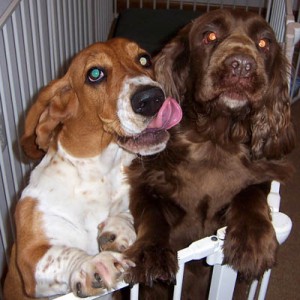 Here is Kerry's blog posting…
Goodbye Nell-Dog 9/19/99 – 3/13/13
More loving that Nell introduced Kerry and I years ago…Love, Cat, Daisy Lynn (Chaps and Emma ATB) showing their new friend around…
PS – Special note to Hannah from The Bridge Mayor Chaps…
"Nell will be well taken care of darling, don't you worry"….

Comments(7)