March 18th, 2013 - 6:06 pm KY Time
Howllo Fellow Basset Hound and weather report lovers…I have been wondering about our Mayor and howl she will reacts to storms.  Early this morning we had a minimal storm roll through and my heart started racing.  I tried to calm down because I did not want Daisy Lynn to feel my negative energy.  Not only did she not feel it but she slept through the 3 or 4 rumbles.  It was time to get up.
Daisy Lynn was just her sweet self!
It was very dark and raining very hard.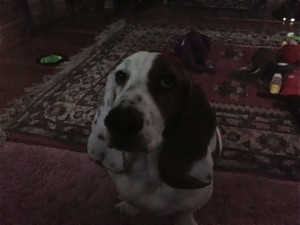 I calmed down and just did my normal thing.  I gathered up her toys so I would not trip over them.
She took these 2 out of the toy box.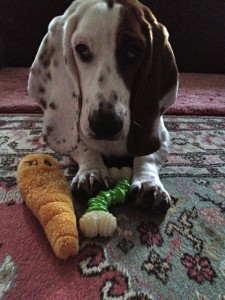 I am cautiously optimistic.  This would mean that for the first time in 20 years I would not have a storm phobic hound.
"Mamma, don't worry, I will protect you!"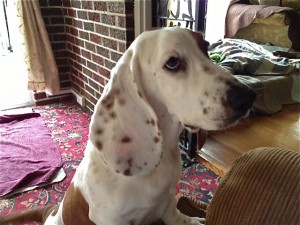 More loving optimism later…Cat, Daisy Lynn (Chaps and Emma ATB) where there are no frightened hounds…

Comments(6)