March 19th, 2013 - 7:07 pm KY Time
Howllo Fellow Basset Hound and toy box lovers.  Grandma was helping Daisy Lynn put her toys away earlier today.  It looks like bassethoundtown is a toy store!  I do love it.
And so does Daisy Lynn!  As Grandma was putting them in the box, puppy was taking them out!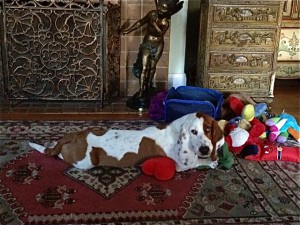 Daisy Lynn says…"I love my Grandma and my toys scattered everywhere!"
More loving toys and especially the toy box empty…Love Cat, Daisy Lynn (Chaps and Emma ATB) loving that the heart toy is near Daisy Lynn's heart!

Comments(6)