August 12th, 2013 - 9:09 pm KY Time
Howllo Fellow Basset Hound and wondering about this little girl hound lovers…It was back in March, 2013 when I first read the story about a man and his basset hound that went missing in Mexico.  Of course I did not have good feelings about them since they were last seen in the drug infested border town of Nuevo Laredo.
Nuevo Laredo used to be a darling and sweet Mexican town that welcomed tourists.  Grandma, Grandpa and I were amongst them.  We adored vacationing and shopping in Nuevo Laredo.  It was so much fun and the people were beyond special and sweet.  It was like an enchanted village back in January of 1988.
Oh howl the worm in the bottom of a tequila bottle turns.
My Dad thought this would be a good picture.  I had on his sweater and the blankets were so warm.  I bought about 10 of them.  I never gave him his sweater back!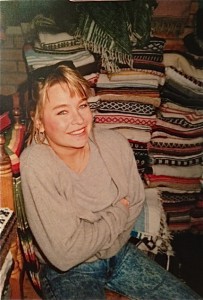 So, fast forward to the lost basset.  Her name is Maya and she was found wandering in a rural area about 30 minutes outside of Nuevo Laredo.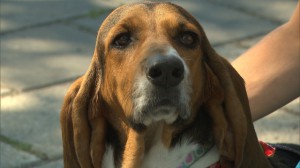 "The family and friends of a Laval, Que., man who is missing in Mexico have new hope after his dog, Maya, was found alive.
Marc Ménard was last heard from on March 14, when he emailed his family and friends to say he was in the border town of Nuevo Laredo and on his way back to Canada.
Ménard, 44, was wrapping up a three-month road trip in Mexico with his basset hound.
No one has heard from him since.
Nuevo Laredo is notorious for its drug-cartel-related crime. It's also home to Los Zetas, a powerful criminal syndicate said to be involved in, among other things, drug trafficking and kidnappings.
Ménard's family believes he was kidnapped. Frustrated by the lack of help from authorities, they have been investigating the case on their own, through Facebook and contacts in Mexico.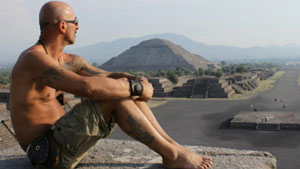 The strange tale of Maya's return begins when police found a basset hound wandering in a rural area about 30 minutes outside Nuevo Laredo."
"It's not a dog that any person has here in Nuevo Laredo. Only the rich have those types of dogs," says Gina Ferrara de Leon, head of the local animal shelter where Maya was dropped off.
"Right away, she caught their eye."
"An employee at the shelter happened to be looking on Facebook, and spotted the dog's photograph on a page about Ménard.
That's when Ménard's family received the good news and began a four-month campaign to get Maya back.
"Maya, she's an angel. We're so happy to have her back," said Marc Morneau, a friend of Ménard's.
It took months of back-and-forth with the police department and officials on the ground, but Morneau said the dog's return has brought them fresh hope.
He drove for 80 hours with two others to retrieve Maya from Mexico."
'Maya is a part of Marc'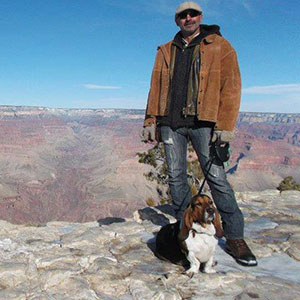 Marie-Josée Tessier, who has known Ménard for 14 years, said she is certain he is still alive.
"We have faith, hope, that Marc's gonna come back."
Tessier said they believe Menard was kidnapped by two men, and that one of them is currently in custody on another charge.
They're trying to find a lawyer in Mexico to help them arrange a meeting with that man.
Tessier said if Maya survived whatever happened in Mexico, Menard might have survived as well.
"For us, it was very important to bring back Maya here. Maya is a part of Marc." -
end of article
More wishing the best for Marc and the town of Nuevo Laredo.  Love, Cat, Daisy Lynn (Chaps and Emma ATB wrapping the family in rainbow blankets)
PS – That Maya is one tough broad.

Comments(1)