August 16th, 2013 - 9:09 am KY Time
Howllo Fellow Basset Hound and weekend lovers.  What's going on in your neck of the woods?  It is almost fall like in bassethoundtown so we will take advantage of this beautiful weather and get our short legs moving!!!
I thought I would share a blast from the photo file past.  Me, Emma and Chaps taken back in 2004ish.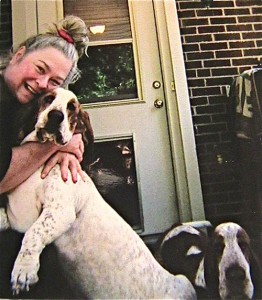 Daisy Lynn is the 5th hound to hang out on the back porch with me over the years.
Oh the hounds this town has seen….
More loving hounds later…Cat, Daisy Lynn (Chaps and Emma ATB hanging on the rainbow porch)
PS – Have a great weekend residents…

Comments(5)