August 17th, 2013 - 8:08 pm KY Time
Howllo Fellow Basset Hound and bath time lovers…today we were not one of those.  OMDog!!!
Our very own Daisy Lynn went totally berserk during her bath today.
We took her to a "do it yourself" place in Ft. Thomas, our home town.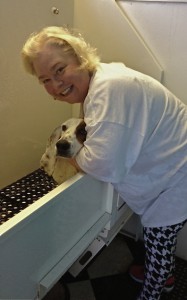 There were a few things I did not like either.  The water did not have a low level and was so loud.
I could tell it scared her.  I want bath time to be calm so I don't think this is the place for us.
It's all a journey…
Next stop..new bath house!
More loving a sweet smelling hound later…Cat, Daisy Lynn (Chaps and Emma ATB bathing in rainbow bubbles)

Comments(5)