December 24th, 2013 - 6:06 pm KY Time
Howllo Fellow Basset Hound and sharing lovers…I had to show off my new piece of art!
It's the dining room table runner…
Daisy Lynn thought she smelled Bumper???
Bumper and Abby's Mommy Judy quilted it for me.  Yes!  Handmade with love, quilted by Judy!!!
I love it!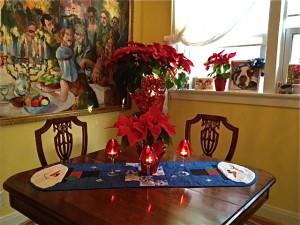 Look at the detail on the snowman's face, complete with buttons and snowflakes….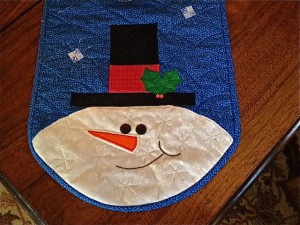 I absolutely love quilts and this one is very special!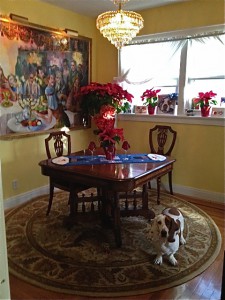 Thank you darling…
More loving share time later…Cat, Daisy Lynn, (Chaps and Emma ATB quilting rainbows with clouds…)
PS – Stay tuned for a young pup watching for Santa!

Comments(3)