12-16-12 ATTENTION, IF YOU ARE COMING FROM THE FORUM TO GET UPDATES ON THE BLIND BASSET HOUND COLONY I AM DOING MY UPDATES VIA THE COMMENT SECTION. GO TO THE BOTTOM OF THIS POST AND KEEP UP TO DATE VIA MY COMMENTS AT THE BOTTOM.  IF YOU LOVE BASSET HOUNDS AS MUCH AS I DO, YOU WILL FIND THIS FASCINATING.  IF YOU LOVE THIS BREED AS MUCH AS I DO I FEEL YOU HAVE AN OBLIGATION TO HELP THE BLIND BASSET HOUND COLONY.  I WILL DO ALL OF THE HEAVY LIFTING BUT I NEED MORE INFORMATION.  PLEASE…LOVE, CAT WOMAN

Dr. Helga Kecova, a research scientist in Dr. Grozdanic's lab, performs a High-Frequency Ultrasound procedure to screen for glaucoma.
(Note from Cat Woman…This puppy has probably never been outside of a research lab. Where did this puppy come from?  It looks just like Emma.  Who ever would hand over a puppy like this to a research lab is nothing more than scum.)
Page updated 4-21-12.  Today Emma is 8 years old and the only remaining pup in her litter.  She and I have learned but not verified that the Nances are giving up breeding basset hounds and moving out of TX.  We will work to confirm this development.  IMO – this is the best birthday present that Emma and I could ever receive.  We are proud of the work we have done in glaucoma research and updating the public with our findings.  Our fight continues on and our reporting will not stop.  I am proud that Emma and I fight the good fight.  It is crucial to have a purpose in life.  Our purpose is to help expose what is right in front of our eyes…that is, if you have them!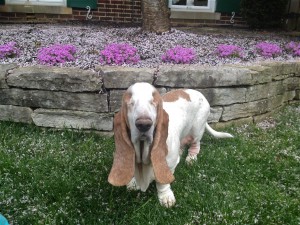 Page updated 11/4/11 with a google alert from Dr. Kuhen and his "research" regarding glaucoma.
(rolling eyes)..Go to the bottom of comments and read it.
Page updated 2/11 with the death of yet another hound from Emma's litter.
Page updated 12/7/10 with a reply to a comment from Saraberry.
Comments are at the very end.
Please take time and read this entire page before you comment with questions. I would be surprised if there is something that I do not cover. That being said, I love comments. Please leave as many as you want!
Page updated 5/23/09 with comments from
Sinisa Grozdanic DVM, PhD
Department of Veterinary Clinical Sciences
College of Veterinary Medicine
Iowa State University
Ames, 50011 IA
I have a few responses as well
IMPORTANT – PLEASE READ AND ALERT ANYONE YOU KNOW WHO HAS A BASSET HOUND FROM BOBAC BASSETS IN ROANOKE, TX
PAGE UPDATE AS OF 5-6-09 – OK, I just got my Tally Ho in the mail and I was not surprised to see the article entitled, Health and Research by Norine Noonan, PhD. I first want to say that Dr. Noonan does not speak for me as a member of the Basset Hound Club of America.
My inner basset says, "Birds of a feather flock together"………..
First off, how Dr. Noonan can say that Richard and Sharon Nance of BoBac Bassets bravely and candidly wrote about their experience with glaucoma in the last issue of Tally Ho is just so wrong. Dr. Noonan please feel free to contact me and I can relate my experiences with the Nances that are no where near brave and candid. I suggest that you dig a little deeper before you bestow those titles on the Nances. You can learn a lot by reading this entire posting for one. My dealings with the Nances were cowardly and full of lies. Opposite from how you represent them.
You can always tell when a friend is writing an article for someone because there is never a counter point to the author's opinions. It's called fluff.

I have a lot more to say about this article and I will.
I just have to take some Pepto Bismol first.
Cat
PAGE UPDATE 5-7-09 -
OK – I am back. Dr. Noonan, if you took the time to read this entire posting you will see that what you said about glaucoma appearing suddenly with devastating results for the breeders is not true in reference to the Nances of BoBac Bassets. However, what you said certainly applies to me.
I find it interesting that you only refer to breeders and how devastated they must be regarding glaucoma, not the people that these breeders sold puppies to. I find that high and mighty. Most of any litter is sold as companion pups. Just like when Sharon of BoBac Bassets sent out her original e-mail alert regarding glaucoma only to BHCA folks telling them that she had glaucoma in her line. I still correspond with folks that have never heard from her about her negligent breeding. Not very brave is it? However, she hounds certain others for blood and semen. Not very candid is it? Actually a bit desperate!
Emma's glaucoma appeared suddenly and the results where devastating. Had the Nances been honest about Emma's health when they sold her to me I may have been able to prolong her sight for a period of time. Yes, her blindness would have been devastating to me, but I would have known it was probable. However, the Nances of BoBac Bassets knowingly sold me Emma with abnormal, bilateral drainage angles. Candid? Not one bit when they told be she had a normal eye examination. Brave? Not one bit. I call it the lowest of the low. The opposite of brave! COWARDLY.
The Nances of BoBac Bassets knew they had glaucoma in their line back in 2007 when I told them. It took them over 2 years to come forward. I would not call that sudden. How about the devastation that Emma and I felt as well as my family felt? That was sudden.
What I find really odd is the way that Dr. Noonan words what is being done in canine glaucoma research. She states, "Fortunately, there are at least two groups of scientists researching glaucoma in the Basset Hound." Then she goes on to give the same names that Sharon of BoBac Bassets did in the last Tally Ho. She makes it sound as if these are the 2 groups, when in fact this is one group. The second group is given a half hearted sentence or two down in the article. Read on.
Here is another crazy questionable part.
These research guys from Iowa want the semen of glaucoma free bassets so they can use it for breeding? Huh? I really cannot wait to hear more about this. I am going to contact Ms. Felice Iasevoi at Iowa State to hear more about this. Here is her e-mail address:
Then, as if it is an after thought Noonan mentions the University of Missouri-Columbia and how they are, "studying the genetics of glaucoma in Basset Hounds and several other breeds." Notice how she says studying, not researching??????? Hum?????
Noonan fails to mention that the Iowa study is for humans but she sure points out that the MO study is for basset hounds and "other breeds". I find this so rich. How someone writing an article can spin their agenda.
Dr. Noonan goes on to say that they could use samples as well. Okee doekee. This is the research that the BHCA is supporting with a 20,000 donation that is
basset hound specific. The Canine Health Foundation is matching that donation!!!!!! Here is the information as stated by the BHCA!
Grant No. 747: The Mapping and Characterization of Mutations Responsible for Canine Glaucoma
Principal Investigator(s): Elizabeth Giuliano, DVM, MS, DACVO, University of Missouri, Columbia
Sponsor(s): No Sponsors
Grant Amount: $82,080.00 (half paid by AKC/CHF)
Start Date: 10/1/2007 Duration (in yrs): 2
BHCA Amount: $20,000 (BH breed specific)
Dr. Noonan goes on to say that if you participate in the CHF study the disease has to be confirmed by an ophthalmologist. That sound pretty solid to me. Does the disease not need to be confirmed by an ophthalmologist if you send samples to the Nances study group in Iowa?
I know what is going on. Someone is going to make money off of the results of this Iowa study, this is if they come up with a test kit before the University of MO does. If Iowa comes up with a test kit for vets it will be sold world wide, same as the University of MO. It's a race for profits! What Dr. Noonan does not tell her readers is that the Iowa study is for human glaucoma and basset hounds are the potential benefactors as guinea pigs.
People like the Nances will slyly and not candidly be making a lot of money off the blood and semen of basset hounds. Come on, they did not bravely and candidly come forward out of the goodness of their hearts. I for one know they did not have a heart when they sold me Emma and as far as I am concerned Emma was the only brave one in this entire mess I became embroiled in by meeting the Nances.
Then in highlighted, pink, underlined text Dr. Noonan, "announces" how very pleased she is to state that one of the Iowa researchers has agreed to come to the 2009 Nationals! But wait……..it will take your donations to make that happen. So, you have to pay again to donate your basset's blood and semen. Believe you me, this guy is taking names.
What is the cost for this guy to come to the nationals? There is no mention of this in the Noonan article. I want full disclosure.
Dr. Noonan goes on to talk about the test kit that is needed. She does not call it a kit, but that is what it is. I am all for one of those but are we going to hear who is making money off of this kit? Are the Nances going to be candid about that? Will they bravely admit the truth?
Again, Noonan asks the BHCA members to, "step up"! Hey, Dr. Noonan – if the Nances had stepped up when they knew they had glaucoma in their line it would have been very brave and candid indeed! But where were they 2 years ago? Telling me to lie for them?
As Dr. Noonan concludes she states, "We need BHCA members to step up and contact these laboratories and offer their help by sending semen to Iowa State or blood samples to Mizzou."
OK, who know what a Mizzou is? I am sure not many. Can Dr. Noonan get any more vague and deceptive? Mizzou, my dear readers is the University of MO. The one that the BHCA had donated 20,000 dollars to through the Canine Health Foundation who will match that amount.
Dr. Noonan states that the BHCA board has approved the Iowa researcher to the 2009 Nationals. The motion was not in this Tally Ho. I will look for it in the next one.
Do the Nances have any of their blind hounds? I can answer that. HELL NO!
I am not going away. I can see what is happening here. If you want to use the word Brave. Use it with Emma Rudert in the sentence. The Nances do not deserve the dignity of that word.
Emma Rudert, PhD (Pure hound Deserving of the TRUTH)
As always, if you want to e-mail me, it is with anonymity if you desire. The many who have, can rest assured that I keep that promise!
__________________________________________________________
PAGE UPDATE AS OF 3-13-09 11:30AM KY TIME. – I have made the decision to re-ad the Tally Ho article now that it is on the internet. Sharon has sent another group e-mail to some of the non-members of the BHCA who have BoBac basset hounds. She has also attached the Tally Ho article. I can think of no good reason to keep it from the public. If the copyright holder wishes me to take it down, I will, but I think that would be a very bad decision. It would also show a lack of compassion.
MY COMMENTS IN THE BELOW MENTIONED E-MAIL FROM SHARON REMAIN UNCHANGED. THE ONLY THING I AM ANXIOUS TO DO IS DISPUTE HER ARTICLE WHICH I AM WRITING CURRENTLY.

THIS IS MY INTRODUCTION AND THEN SHARON'S E-MAIL WITH MY COMMENTS.

Hi everyone. On 3-4-09 I received a group e-mail from Sharon Nance of BoBac Bassets. This group e-mail, as far as I can tell, was only sent to members of the Basset Hound Club of America. The reason I do not know for sure is because she did it as a blind group e-mail. Seems sadly fitting. I know several families who have BoBac bassets who are not members of the BHCA and they were not alerted of this glaucoma health concern via Sharon's e-mail. This is just typical behavior for the Nances. Full disclosure means nothing to them. Update: 3-12-09, It appears that the Nances have sent out an e-mail to another group of folks to have their hounds or a hound. This was definately the right thing to do. The people who have purchased a hound from them need a fight chance to get their hound's eyes tested for glaucoma and begin treatment if necessary. Timing is critical.

This is my effort to make sure as many people with BoBac bassets know as much as possible. I have known since April of 2006 what the Nances just announced yesterday. BoBac Bassets has hereditary glaucoma in their line. I alerted the Nances the same day Emma was diagnosed with this heinous disorder back in 2006. Unfortunately, it has taken over 2 years for this breeder to alert only a chosen few about this health emergency update.
HERE IS THE E-MAIL FROM SHARON NANCE OF BOBAC BASSETS:
I will be commenting in this e-mail and how it differs from what actually happened in my situation. Also, I address the Tally Ho article which is more detailed. I firmly disagree with most of the Tally Ho article. I will have it uploaded soon. What is sadly missing in both this e-mail and in the article is an apology. Neither Sharon or Richard took any kind of ownership with me.

Start of Sharon's E-mail regarding BoBac Bassets and GLAUCOMA IN THEIR LINE:

Hello to all.
This is, no doubt, the hardest email that I have ever had to write. I wanted you to receive this prior to getting the Tally-Ho, as I do not want you to be alarmed by a article that was written by me. It is called, "A Breeder Crys"a true story.
As careful as we have tried to be in our breeding program and despite doing all of the eye testing available to us, we do have glaucoma in our line. When we received the first call, it was devastating. We hoped it was an isolated case, but when the second call came, we knew we could no longer deny that we had it. We researched every breeding record and went over every eye exam from the Ophthalmologist, since acquiring our first two bassets. Did we miss something and breed a male or female that did not have seemingly normal angles, as a pup. What we missed and could never have known, was the mutant gene or genes that lurk somewhere in every pedigree. Most breeders will say, we don't have it and maybe they have not seen it show up, but it is there, waiting to strike. We talked many times with our ophthalmologist and asked, isn't there something we can do? The answer has always been, you are doing all that is available at this time. He knew that if there was ever to be a study done to try and find the gene or genes and come up with a DNA marker, that we wanted to be part of it.
The Tally-Ho article, acknowledges that we have it and that we are now part of a study between the University of Iowa and Iowa State University. We started by submitting, bloodwork from 21 dogs and have now included another 15.
I went to Iowa a couple of weeks ago and met with the researchers, for a full day, taking with me all of our breeding records and every eye exam for every dog since 1996. We went through each litter pedigree, coming up with a total pedigree, relating every dog we have ever bred. Through this analysis, we have initially been able to identify the affected (those with glaucoma,) the carriers (it takes both sire and dam to be carriers, to produce an affected). We are now looking at each litter to see if there is a possibility that some of you may have a dog that may become affected in the future.  That is the worst that can happen. The good news, if there is some, is that there is a new procedure called High Resolution Ultrasound. Ophthalmologists can go in and look behind the angles and see the cleft of the eye. If the cleft has collapsed, the dog will become affected. The owner can then  put the dog on drops that can prolong the onset of glaucoma for several years. Usually, the dog becomes affected and loses the eye before you know there is a problem.  As hard as it is on the dog to lose the eye, it is usually harder on the owner. I am not in any way trying to minimize the loss of an eye or both eyes, but just as humans, they can still lead a happy life and will always love you unconditionally.
We have now started the process of having the High Resolution Ultra Sound done. The study is being funded and the costs for testing are being absorbed by the research program. As soon as I know the status of every dog, I will be in touch to discuss the status of your dog and the probability of your dog being affected.
Richard and I are convinced that the mutant gene will be found and we will at last have a DNA marker that will help end glaucoma in our beloved breed.
If you want to talk with me, call 817-xxxxxxxx
Sharon
End of the *cough* e-mail.
Crock