This list below is going through an update process. There are more basset hound rescues that I need to add and some that I need to delete. As always you can contact me for more information. cat@bassethoundtown.com
ALSO - IF YOU ARE LOCATED IN THE GREATER CINCINNATI AREA AND HAVE A BASSET HOUND YOU ARE LOOKING TO SURRENDER/RELINQUISH I MAY BE ABLE TO HELP. I HELP ON A CASE BY CASE BASIS. Send detailed summary of your case along with pictures from all angles. PLEASE CONTACT ME VIA MY E-MAIL - cat@bassethoundtown.com
FIND YOUR CLOSEST RECOGNIZED BASSET RESCUE FROM THIS LIST:
THESE ARE A LIST OF bassethoundtown.com RECOGNIZED RESCUES. IF YOU SEE bassethoundtown.com listed under the state you are looking in please e-mail me at: cat@bassethoundtown.com TO BE A RECOGNIZED BASSET HOUND RESCUE ON THIS LIST THE RESCUE MUST HAVE 100% TRANSPARENCY.
PLEASE DO NOT DONATE TO ANY 501C3 UNTIL YOU HAVE DONE YOUR HOMEWORK.
If you do decide to donate without being fully aware of a certain rescue do so via items that can be used by the hounds like food, treats, blankets, toys, bowls or anything else that is not money. You can always ask the rescue who they use as a vet and then ask to pay a bill or put a credit on the rescues account. Remember to steer clear of sales, fundraisers or raffles that use the P words!!! Proceeds, profits, portions, or percentages...All red flags.
Bassethoundtown.com has not taken a single donation in 2 decades. We are NOT a 501(c)3. All rescue efforted are funded through my business and solely my responsibility.
THIS HAS BEEN A PUBLIC SERVICE ANNOUNCEMENT FROM YOUR FRIENDS AND FELLOW RESIDENTS OF
BASSET HOUND TOWN ENTERPRISES, LLC SINCE 2003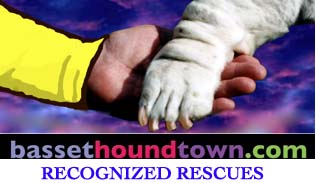 Alaska
Alabama
Arizona
Arkansas
California
Colorado
Delaware
Florida
Georgia
Idaho
Illinois

Indiana bassethoundtown.com
Kansas
Kentucky
Maryland
Michigan
Minnesota
Mississippi
Missouri
Montana
Nevada
New England
New Jersey/New York/East PA
New Mexico
New York State
North Carolina
Ohio
Oregon
Pennsylvania
South Carolina
Tennessee
Texas
Utah
Virginia
Washington D.C.
West Virginia
East Washington/Montana/Oregon
Washington State
Wisconsin
Wyoming
CANADA
Thanks for visiting our town. Please bookmark us and take the short cut back. Things in this town change in a wag of a hound's tail!