April 11th, 2009 - 10:10 am KY Time
Howllo Fellow Basset Hound and tail wagging lovers: This morning I woke up before Emma did which is totally unusual. Since I have been sleeping on the couch next to her bed she thinks it is funny to lick my face which is about at her level. Me, not so much at 5:30 in the morning.
So, I was just laying there, looking at her sleeping. She was all covered up with her blankee and she looked sooooooo cute. Anyway, she must have sensed me being awake and lifted her head. She stood herself right up and walked out from under her blankee with her tail wagging. My goodness what a way to start your day. That little brief moment was such a gift. No need to be grumpy in the morning – just wag your tail! LOL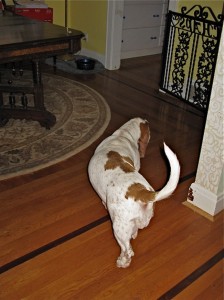 This picture was taken back when our girl could walk on hard wood floors. I bet she will be able to do this sooner than later……..
More waking up with your tail wagging news later………Love, Cat, Chaps and Emma

Comments(2)