June 21st, 2020 - 9:09 am KY Time
Howllo Fellow Basset Hound and Dad Lovers…We are certainly one of those in #bassethoundtown.  Oh, howl I miss my Dad.  He is still here and we have big talks everyday.  He adored #bassethoundtown and all of the hounds that have graced and are gracing it's presence now.  He always called it the dog house.  Everything we did to enhance and change it's function or look was for the bassets.  Dad was so attached to Chaps.  He called him the "delicate soul".
Anyway…
I am going out of order here in past events and days.  I am going to brag on my birthday which was June the 15th soon.  I turned 63 and received one of the best gifts in my life from my BFF.  Can't wait to show the residents.
Sooooo…Dad…
One Father's Day long ago Dad received a huge wrought iron planter for Father's Day.  This year as every year Grandma and I plant it in his honor.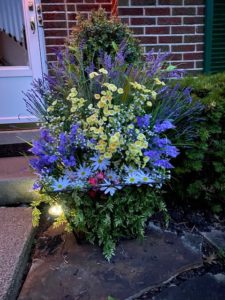 Sitting in the same spot it has sat in for over a decade.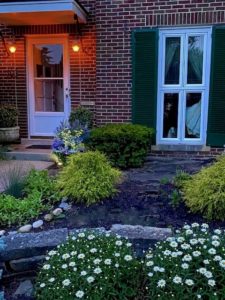 Here you can see some of our Daisies in full bloom and the prettiest one in the window!  Teehehehehe
Also, that little rock edging contains 4 packets of Zinnia seeds that Grandma and I threw out the day after Mother's day.  They are doing great so far.  We did not follow the directions at all.  We just opened the packets and scattered.  A friend of mine told me that the deer leave them along.  WHAAAAAAAT???  OK – sounds great to me since we have a Mom and her 2 babies living across the street.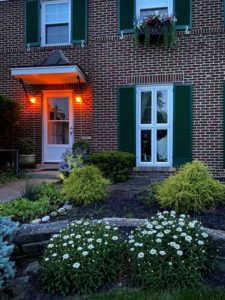 This one shows the flower boxes up at Grandmas.  Also, I bought these really cool lights that look like gas lights.  They flicker and glow.  They are so sooooooo cool.  Just beautiful with Dad's planter.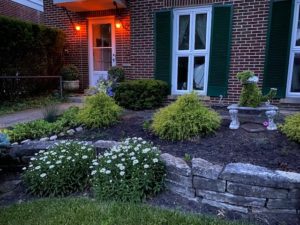 OK, one more to show you the little hound topiary we bought that sits on our bench.  OMDOG I love it so much.  The lights are on a timer.  Just sooooo cute and I think she might be scaring off the hungry deer.  Grandma named her Lynn Lynn.
It's Father's Day, It's Sunday, It's Summer, and it's moving forward.
More loving Dad later…Cat, Daisy Lynn, (Chaps aka delicate soul and Emma ATB with Grandpa)