June 30th, 2008 - 7:07 pm KY Time
Howllo Fellow Hound and Golden Day Lovers: Basset hound town has received another package of gold from:
Beverly Burkholder of AZ Basset Hound Rescue!
Our new friend Beverly loves the Seniors and dug deep into her jewelry box.
Look at the haul!!!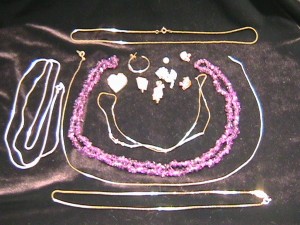 Well, we just got back from the jewelery store and the 14K gold in this grouping brought in 60.00! We are thrilled beyond words! This is just golden!
CLICK HERE TO SEE OUR FIRST GIVING PAGE WITH BEVERLY'S DONATION!
Three of the items which were not gold are currently in the HOP boutique for sale. 100% of each sale will go to the House of Puddles.
When you buy an item in the HOP boutique on my website you are adding the items to the HOP PayPal account. I never see one cent! Just like I like it! hehehehe!
So…. Here are the links to the items from this grouping that were not gold. Shopping never felt soooo goood!
SUPER SWEET SMELLING FLOWER PIN
STERLING SLOBBER BOX CHAIN NECKLACK
Beverly, thank you so much! Your donation will keep giving. The items are slobberific and bassetabulous. We cannot thank you enough!
More gold later….HOPEFULLY! Love, Cat, Chaps and Emma

Comments(2)