WELCOME TO HOMER'S FUNDRAISING PAGE!
DONATIONS ARE NOW OVER! IF THERE IS ANY EXTRA DUE I WILL COVER IT FOR HOMER!
MANY THANKS TO EVERYONE WHO ATTENDED HIS PARTY AND DONATED. ALSO MANY THANKS TO THOSE OF YOU WHO SENT DROOL AND WISHED HIM WELL. WE ALL DO WHAT WE CAN AND EVERYTHING COUNTS!
GOAL: 850.00
1-3-09 update! Homer has collected 816.00!

1-6-09 – I have all of the receipts now and here is the final tally!
Homer collected 806.00 and his total bill was 857.59. I have added the transportation bill under it's category at the end. Basset Hound Town Enterprises will donate a total of 73.00 which includes his pound bill and a small tip that I sent to Jim! I wish had more to send him. You can see the itemized statement at the very end of this page.

DONATIONS:
Justin Leffin – 5.00 Please buy treats for Homer. He looks skinny.
Chaps and Emma Rudert – 26.00 for the pound bill.
Mary Tipping along with Harley, Biggs, Leo and the kitties. – 100.00
"We love you Homer! You are going to a wonderful home where you will loved and spoiled and have many new furiends–what a fantastic way to start the new year–and just the beginning of many more!! xoxoxo"
Candy and Baily Wilson – 20.00, "Happy New Year to you, your family, and the kids!"
Emily, Sadie Anne and Bowser Flash Puddles – 25.00, "Here you go sweet boy! You are such a lucky senior hound, we love you!"
Grandma and Grandpa Rudert – 10.00 – "You are one good looking hound, have a great life and keep in touch!"
Judy Whittels – 100.00 – "Dear Homer, I hope this helps to get you on your way to your new forever home. You are a dear boy and deserve the best life. I hope your new mom knows about chickie and carrots, and all that good stuff. Dice and Dove' send snooter kisses, (the manly kind). Happy New Year, Happy New Life. Hugs, Judy!"
Martha Jacobs – 25.00 – "Happy New Year Homer, your going to have a wonderful life. Pollyanna, Emily ATB, and Teddi the PET girls!"
Tina Schukan-Davidson – 20.00 – "Happy New Year HOMER!!!!!!!!!! Your going to have a great life((hugs)). Lots of Love
Kelly,Tina and Beulah&Bogart"
Mary and Scully – 30.00 – "Happy New Year, Homer! I am sure you will have a wonderful new life in your new home. You deserve the best! Lots of love, Mary and Scully!"
Mary Elizabeth Hughes – 10.00 – "We are so happy that you rescued Homer and found him a furever home, Cat. Thanks for all you do to help homeless hounds. 🙂 Happy New Year, Homer. What a great way to start 2009! Mary Beth, Lily Belle, & Penelope Belle"
Sandra Gaston – 20.00 "Happy New Years and New Forever Home Homer. Camp Toast"
Mike, Audra and Jourdan – 10.00 – "Hope you have a happy life in your new home. From Mike, Audra, & Jourdan"
Colby Chaps and Abby – 10.00 – "We hope you get a lot of love and treats in your new home. Colby Chaps & Abby P.S.- From Abby- I was once in your paws, so I know how you feel."
Glenn, Charlene, Bailey and Clancy – 100.00 – "From what it appears, Homer had not been taken care of to well. It was a blessing that he was brought to the pound, and for a Angel like you, "Cat," to get him and care for him. Have a safe trip, and a Happy New Year, Homer! From Glenn, Charlene, Bailey, & Clancy"
BJ and Gary Porter – 25.00 – "Happy New Year's Homer….Sending a $25.00 check by snail mail to help you on your new journey!!! Love is in the air and there is so much love for you from your Bassethoundtown friends. Enjoy your new life with your Mommy and fur family!!
We love you,
BJ and the awsome foursome
(Charlie,Otis,Zoey and Phelps)"
Kathy Ireland – 20.00 -"Here is a donation for Homer's medical bills. May he have a healthy new year and life!"
Wendell U. Flopbottom – 10.00 – "Wendell wishes all the best for Homer (a great senior hound) and his new life in 2009!!"
Cindy, Ronald, Henry, Lucy, Tracker and Luna – 25.00 –"Happy New Year big boy. When Cat entered your life it was a miracle. You won the lottery! Good Luck with your new Mommy!"
Devon, Todd, and Ryder Smith – 50.00 – "Cat, The old hounds and I will be sending you a check for $50 for Homer. We love you and thank you!"
Chris Dowd – 100.00 – "You are one very special &; lucky houndie, Homer. Aunt Cat saved you and loved you while waiting for you to get to Joni and your furever home. Have a wonderful life & know that many people love you."
The Woods Family – 10.00 – "Homer Homer. Glad you are on your way to your forever home .. So now just enjoy life the way a basset should with lots of belly rubs and treats. The Wood Family Debbie, Angel, Lucky Puck and King JB"
Maureen and Slinky – 15.00 – "Homer, I am sending a check for $15.00 to help out with your vet costs, but I want to get your forever home address in order to send you a special treat. Slinky"
Katie (Candy Wilson's niece) – 5.00 – "The Lily book really has her thinking about homeless animals. Here's to a safe trip to NY for Homer. Have a great weekend. LUV Candy and Bailey"
Ken Johnson – 25.00 – "Cat, I will put a check in the mail on Saturday for Homer's expenses. Good luck big guy!"
Jenny Standridge – 15.00 – "Homer, here's to your new and improved life! May it be furever filled with love, tweats, good health and happiness. Jenny, Kitties and Diva Angel Penny!"
Kip Massett – 10.00- "Homer, our best to you in your new home. Thanks Cat! Hugs, Kip, Gus, Bonnie and Charlie Bear"
Lynn Hahn – 10.00 – "Please put this 10.00 towards Homer's expenses!"

As many of my dear readers know, we need money for Homer's bills. I have made a tally of his expenses. Any amount you can give will help his new Mom with the additional expenses she will have in the future.
I am not setting up a FirstGiving page for Homer because I am not a 501(c)3. FirstGiving only works with not for profit organizations. You need to know this, because any donation you make for Homer is not tax deductible. You also need to know that 100% of your donation will go to Homer's bills. I will be posting his bills and his donation amounts right here on this page.
Now I want to tell you how to donate. There 2 ways.

1.) You can log on to PAYPAL.COM
After you log in to your account you click SEND MONEY at the top left hand corner. Then, you enter my e-mail address which is
bassethoundtown@fuse.net
Then you add the amount you want to send to Homer – remember, no amount is too small.
Click on Services – Other, hit enter and you will get a review screen. At the bottom of that screen is a box to type a message. Please put that this payment is for Homer and a message. I will be posting these on this page as well.
OR

2.) Send a check to:
BASSET HOUND TOWN ENTERPRISES
CATHY L. RUDERT
P.O. BOX 347
FT. THOMAS KY, 41075
Please put Homer's name in the memo line
TALLY OF EXPENSES
PICK UP FEE FROM POUND, 26.00…………
Here is his pound vet paper -you can click on the thumbnails to enlarge.

VETTING, see invoice, 98.59…………Donations will go to this amount first. Click on the invoice to see every detail.

BOARDING

5 days @ 17.00 per day, 91.80…………….I do not have the receipt yet because it is still in progress, I will be posting it. FYI – this amount includes food and 3 walks per day with one extended play session per day.
I think I got overcharged by 17.00 on the boarding. I am going to call on Monday and make sure. If they charged for Saturday, I am going to be a bit miffed.

SURGERY
Dental, neuter and lumpectomy (3), 477.40.…………….I do not have the receipt yet. I hope to pick that up today when I visit Homer. I will be added the mini picture for you click on. (update) I will not have this until Saturday. FYI lumpectomies were not sent to the lab which saved 100.00. Joni is to keep a watchful eye on these areas.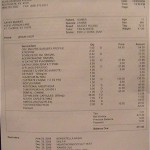 TRANSPORTATION
Private driver (estimated), 150.00…………….YES! You heard me right! This amount is an estimate because this private driver only charges us for the cost of a rental car, gas, and meals. This is a 16 hour trip he is making in one day. I will be doing other blogs on this man, but he is an angel with a driver's license. He has driven another basset for me in the past. Homer is too old and the weather is to bad from here to NY to chance a 4 to 5 leg transport, not to mention I had no takers on the transport.

Homer has suffered enough, he needs a little luxury in this life on his way to his new Mommy. This man is named Jim and he does OLDE ENGLISH SHEEP DOG RESCUE.
Can you imagine driving 19 hours for the love a a hound? That's stunningly amazing! Thank you Jim. We love you!