September 14th, 2019 - 1:01 pm KY Time
Howllow Fellow Basset Hound and Travel Log lovers…Way back when we were visiting the outer banks on this blog and it seems so long ago.  I am shocked it has taken me so much time to record a trip we took back in June and July of 2017.  What is wrong with me?  I think it becomes a bit daunting and then you get bored. Can't imagine if I am bored howl you must feel but here we go anyway!  hahaha…
When we last left our 2017 Lily Book Tour Trip we were departing the Outer Banks – the land of dreams.  We are now on our way to Charlottesville, VA.  So glad we were not there during the riots.  I can't believe I had to type that last sentence.  Anyway…
We stopped in Charlottesville to visit Monticello – home of Thomas Jefferson.  I just love visiting these historic sites during the summer with all of the other sun burnt families listening to tour guides. Reminds me of my childhood.
Monticello is very dog friendly as an attraction.  Dogs are not allowed in Monticello but most every where else.  When you arrive at Monticello you enter though a large staging area that includes a visitors center, theater, museum, gift shop, Farm Table Cafe, and more.  You can absolutely do Monticello in one day even if you have a slow moving basset hound family like ours.
I would get there earlish.  When you get there you buy your tickets which are timed so you kinda have to know what time to pick for your house tour.  We were told that it did not take long to walk up the hill which turned out to be a steep freaking mountain so we were a bit rushed hitting our time slot.  But again, keep in mind you have to be pretty fit to walk up to Monticello which means little mountain in Italian but believe you me it is not little.  They recommend to take the bus up and walk down.  Interestingly, they allow rioting in the streets of Charlottesville but dogs are not allowed on the bus going up to Thomas Jefferson's home.  Whatever…
OK, so now you have your tickets.  Pop into the theater and watch the documentary on Monticello which runs on a loop.  We did not even ask, we just walked in with Daisy Lynn.  It was fine.  She slept under our seats.  I love historical documentaries in the summer.  Again, the old childhood seeping in.
Here is a portion of the video…If you are interested.
After the movie we went to the massive gift shop and enjoyed all of the unique items.  I bought a daisy magnet for my fridge and few gifts.
Plan on having lunch at the Farm Table Cafe which is dog friendly outside.  We discovered that if you walk down past that set of tables to the back there are a few tables that over look the forest and it's just stunning.  It was already taken when we arrived so I didn't get a picture.  The place is fantastic anyway.  They have wine as well!!!  Yipeeeee!!!  You go in and order cafeteria style and then take your stuff outside.  And then as per usual – you get swamped with people wanting to pet Daisy!
So now we are ready to walk up to the home.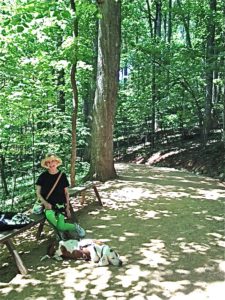 They told us it would take about 20 minutes or so.  I would estimate if you like to stroll and enjoy your walk allow about an hour or more.  That gives you plenty of rest stops to enjoy this beautiful winding trail up to Monticello.
It is very dusty so make sure to where shoes you don't care get dirty.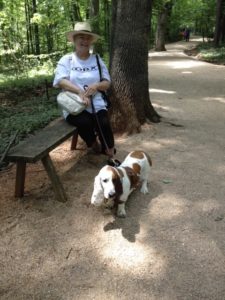 You can see the steep climb behind me.  Back in the 1790s James and Dolly Madison would travel this route from their home called Montpelier which is about 20 miles away from Monticello.  This 20 miles took the couple almost a day to traverse.  The "small mountain", to Monticello was slow going for the horses at the end of the day.  You would think that Dolly and James would have collapsed into bed at night but according to our tour guide, Dolly hated the bed and made her own on the floor with covers and pillows.  OMGAWD that is too funny…
We finally made it!!!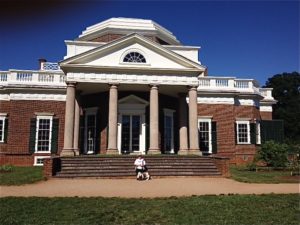 Grandma went in to her tour first and I sat with Daisy Lynn.  I actually went around to the side after this picture was taken, (to the right of this picture) and sat on the side porch.  Tour groups were coming in and I got to listen to multiple group leaders tell their own stories.  It was fascinating.  Plus it was cool and Daisy laid on the cool stones like the many Briards that Jefferson owned and bred over the years.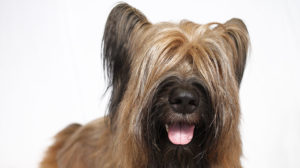 "Over the years Jefferson imported more of the French herders. One pair was sent by none other than the great Revolutionary hero the Marquis de Lafayette. In 1813 an appreciative Jefferson wrote to his old friend in Paris, "The Shepherd dogs mentioned in your letter of May 20 arrived safely, have been carefully multiplied, and are spreading in this and the neighborhood states where the increase of our sheep is greatly attended to."
Back in Jefferson's day – Farm to table was not the trend but the only way you could eat good.  Albeit, Jefferson had a plantation full of slaves doing most if not all of the work.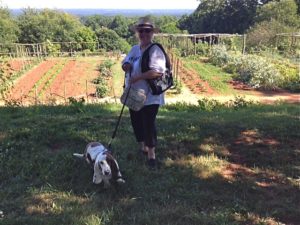 Thomas Jefferson is buried at his beloved Monticello.  His graveyard is about halfway down the mountain on your way back to the visitor's center.  No mention that he was President on his headstone.
No one knows where Sally Hemings was buried…
OK, maybe I'm wrong about only need one day!  You may need two!!!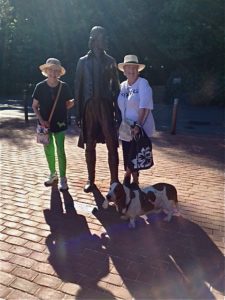 The shadows are long and the summer nights are getting shorter.  We bid fare the well to one of the Founding Fathers.
We have dog friendly reservations at a stately VA club called Keswick Hall.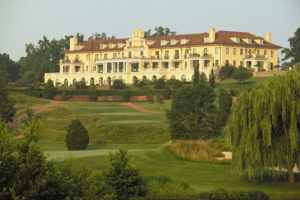 It was so pretty.  Keswick Hall is closed until 2020 for major renovations.  Hope it is still this dog friendly when it opens back up.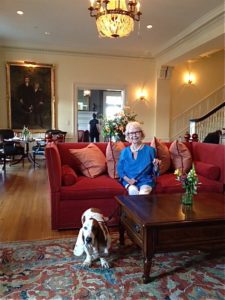 I think it will be because this is hunt county.  Lots of dogs and lots of horses.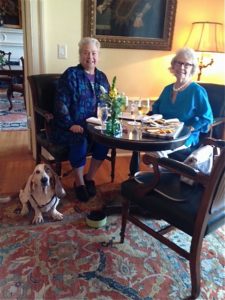 First Course…all local…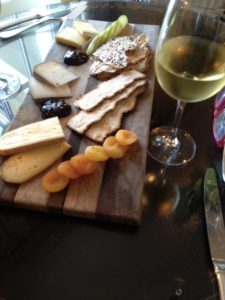 Time of reflection for the past, present, and the future.  Our time was well spent in this region.  We learned so much.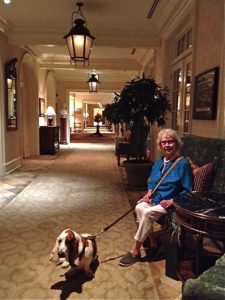 Time to head back to our hotel and get ready to head out tomorrow…Look at the crescent new moon!!!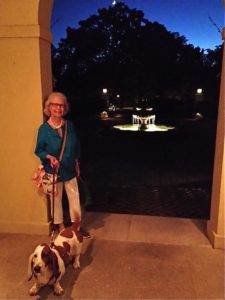 Thank goodness we all like our beds and don't have to sleep on the floor like Dolly Madison…hahaha
Shenandoah National Park here we come…
(sunset from my room the next night)
More loving our summer vacations later…Love, Cat, Grandma, Daisy Lynn, (Chaps and Emma ATB riding in rainbow stage coaches…)