June 30th, 2010 - 7:07 pm KY Time
Howllo Fellow Basset Hound and watering flowers lovers! This is the Mayor panting. He is still a bit freaked out that I left him all day. We have been having more and more separation anxiety.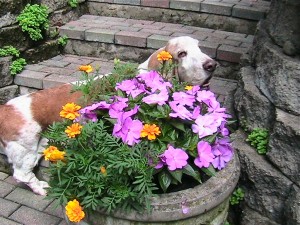 I was viewing the pretty yellow sculptures in Columbus and Chaps was leaving not so pretty yellow puddles for me to view when I got home. I tried to tell himz BHT is not House of Puddles! Poor boy.
More trying help the Mayor remember that watering the flowers is reserved for outside later….
Love, Cat, Chaps and Emma

Comments(5)