April 30th, 2013 - 12:12 pm KY Time
Howllo Fellow Basset Hound and Lunch Lovers…Today was pretty much close to perfect in bassethoundtown.  Daisy Lynn is going to be a sun bather like Shimlette.
This is where Daisy Lynn took her 10:00am nap.  It was so cute…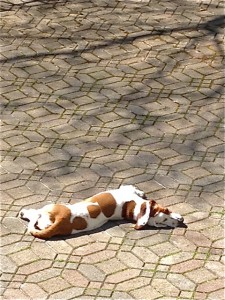 The birds were singing and the chipmunks were running past her (from a far) to get a better look.  I saw Verna trying to figure out what was going on.  She adored Chaps and she hated Lily.  Lily got one of her babies that fell out of the nest once.  Time will tell what happens with the newly elected Mayor.
More wild life trying to figure out Daisy Lynn later….Cat, Daisy Lynn (Chaps and Emma ATB with Verna's baby;)

Comments(4)