March 2nd, 2019 - 7:07 pm KY Time
Howllo Fellow Basset Hound and Lily Book Tour Lovers…Have you ever been to the Outer Banks?  I had never been before but we intend on going back.  Back in the day about a decade or less ago the Outer Banks was a treasure.  It still is in many ways but now it is over run with huge rental houses as far as the eye can see. 
I marveled at howl gigantic mansions like this can be filled with families for the entire length of the banks.  Astounding…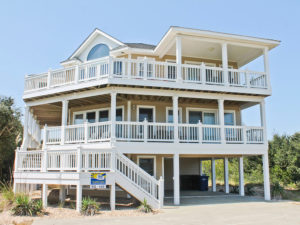 When I was doing my research I wondered if there were any old school Outer Banks still to be found???  I learned there were these types of options dotted up and down the Banks but not many.
We were so lucky to find The Inn of Corolla Light…what a gem!  Totally old school with charm out the wazoo!!!
The Inn of Corolla Light is located on the sound side of the banks.  If you look at the first picture where the row of houses is you will see the sound side.
Here is my room…right on the sound!!!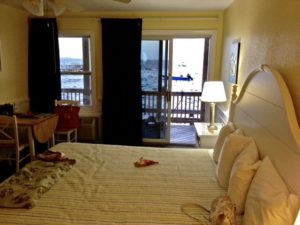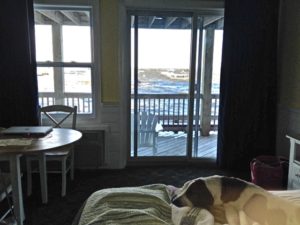 This side boasts some of the best sunsets in the world.  Here you will find Grandma and Daisy Lynn waiting for the sunset – it's just howl we roll!
Ready, set… Life is good on the sound side!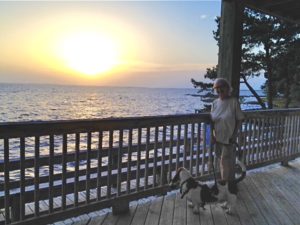 Sound Sunset Selfie…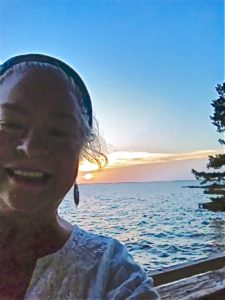 Daisy Lynn getting ready for bed.  You might be able to see that my room had a kitchenette with microwave and fridge.  We brought in crab cakes and fixings from Nags Head on our way in.  OMGAWD!!!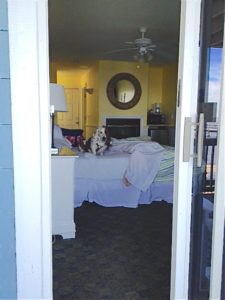 This is the adjoining room that we will get the next time for Grandma.  She was on the second floor right above me but we love our adjoining rooms and Daisy Lynn goes wild for them!!!  hahaha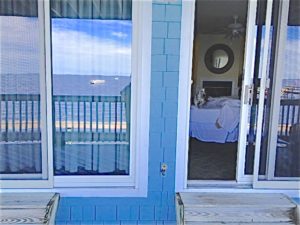 We got up the next morning and this is the pathway to walk your dog…If you make a right at the end of that bridge it takes you all the way to the light house and Currituck.  I will show you in another picture later…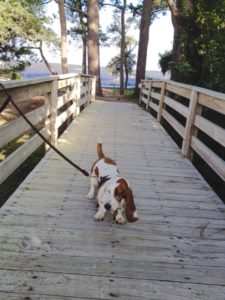 Your room comes with a full breakfast with outdoor dining if you have a hound…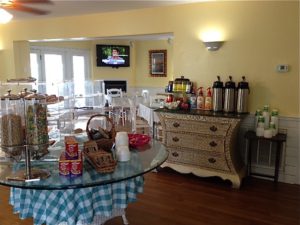 Grandma stayed with Daisy Lynn while I made our breakfasts. Daisy Lynn had a sausage link and a few bites of egg…
We only had 2 nites in Corolla so we had to move fast.  We never did get to the beach but we wanted to spend what time we did have looking around this treasure trove.
After breakfast we walked out to the gazebo.
The Inn's black lab kept us company.  Showing off his mad dock jumping skills to catch himz tennis ball.  OMDOG!!!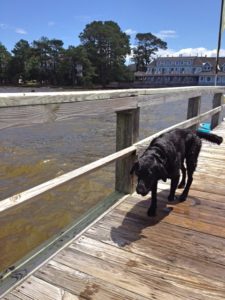 OK, look behind me and you will see the lighthouse.  You can take a path right from my room's door and walk the whole way over there.  Or you can take that pontoon right behind me.  There is the original town of Corolla with little shops – so quaint.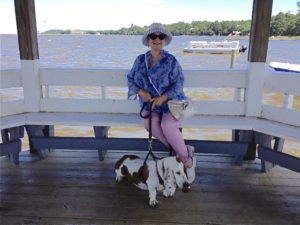 This picture should be on the Inn's website!!!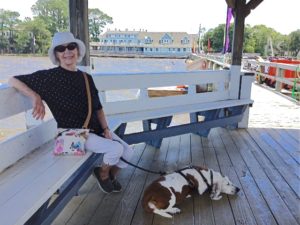 We drove the basset hauling vehicle over to Currituck Beach Light Station and spent a few hours. There is small book store over there and I dropped off the Lily book and spoke to the owner who was very grumpy.  Howl can you be grumpy in the Outer Banks?
Summer time and the light house is fine!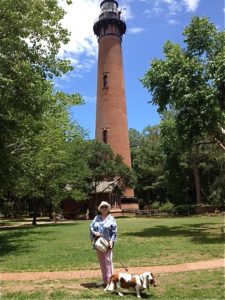 It's time for one more sunset…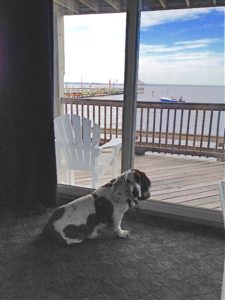 This is absolutely amazing.  The sky was full of grey blue clouds right until the very second that the sun set.  It was like a perfect gift at the end of a perfect day…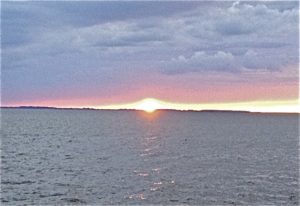 It was like I picked my outfit to match…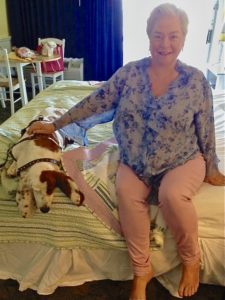 Goodbye for now Outer Banks…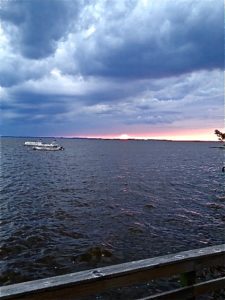 More loving that moment of glory later…Cat, Grandma, Daisy Lynn, (Chaps and Emma ATB sending last second sunsets later…)