December 24th, 2017 - 9:09 am KY Time
Howllow Fellow Basset Hound and whirlwind lovers.  By whirlwind, I mean a lot of fun.  This December has flown by and now tomorrow is Christmas.  Whew…Yesterday it seems we were in Florida.  Speaking of which I have totally fallen down on our book tour blogging.  Last I recall, I left us on my 60th birthday having dinner.  There is so much more to share with the residents and I cannot wait to get back to what I love…blogging about basset hounds!!!
Now I would like to share our Howl Low Day card with our beloved residents…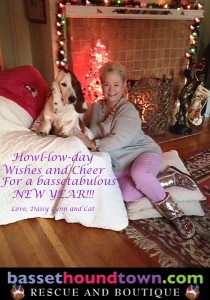 We think it turned out pretty good thanks to Grandma and her mad photography skills.  Today we still have a little bit of wrapping to do while sipping white Russians and noshing on a few salted caramels .  I am making a pot of spaghetti for later and the forecast predicts snow!!! I hope so because I want to take some pictures of bassethoundtown with all the lights up later.  It would look great in snow!!!
Have a wonderful weekend everyone and treat yourself nice.
More loving the residents of bassethoundtown later, Cat, Daisy Lynn, (Chaps and Emma ATB lapping up virgin white Russians under rainbow snow…)