October 28th, 2018 - 3:03 pm KY Time
Howllow fellow basset hound and taking trips with us lovers…As you know I am still blogging about our massive month long book tour through the south but for now I am going to take a side book tour trip to the Historic Boone Tavern Inn in Berea, KY.  When we last were in in Berea we learned that the Inn was dog friendly so we vowed to come back with Daisy Lynn and come back we did!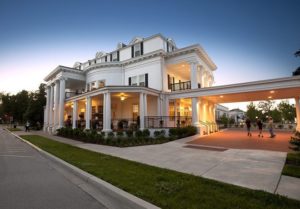 The Historic Tavern is located on the campus of Berea College in Berea, KY.
Berea College charges no tuition; every admitted student is provided the equivalent of a four-year, full-tuition scholarship (currently worth $97,200; $24,300 per year)
Yes, you are reading correctly…NO TUITION, but all of the students work at jobs on campus and the Tavern has many student employees which makes the experience really different and fun.
The first night we had dinner at the Tavern and it was delicious!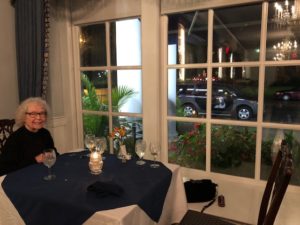 Look outside…I moved the basset hauling vehicle to the window so we could keep an eye on Daisy Lynn.  Perfect weather in the low 50s to keep her in the car.  She would never stay in the room by herself.  We would get kicked out of we even tried.  She did great in the car as we enjoyed a traditional favorite called spoon bread…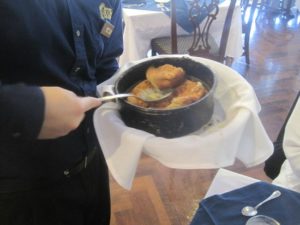 It is like an egg souffle with corn bread – let me get the recipe…
Boone Tavern Spoon Bread
INGREDIENTS:
1 1/4 cup white cornmeal
1 1/2 teaspoons baking powder
1 teaspoon salt
2 tablespoons butter
3 cups milk
3 eggs
DIRECTIONS:
1.  Stir meal into rapidly boiling milk. Cook until very thick, stirring constantly, to prevent boiling.
2.  Remove from fire and allow to cool. The mixture will be cold and very stiff.
3. Add well beaten egg, salt, baking powder and melted butter. Beat with mixer 15 minutes.
4.  Pour into well-greased casserole. Bake 30 minutes at 375 degrees.
Kentucky Hospitality A 200-Year Tradition.
The server/student told us they make 200 helpings a day for the dining room.  I could have eaten that entire casserole dish but I refrained…It was so good!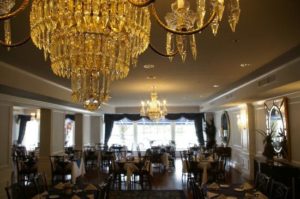 Grandma and I had connecting rooms which Daisy Lynn adores and she can go back and forth and rule the roost!  This is Grandma's sweet suite!
The next morning was frigid as frost!  I thought it would make for a great photo shoot on the massive front porch and boy o boy was I ever right!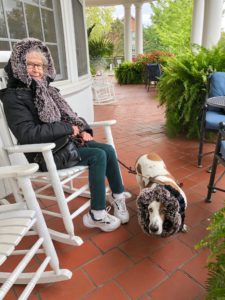 Warm and toasty for our morning walk in style!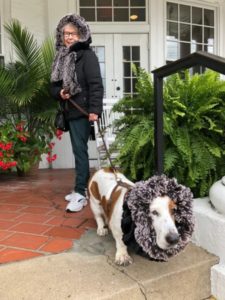 Daisy is sporting a faux fur snood of black mink with a chinchilla trim around the face.  This snood is from our winter haute couture collection designed by yours truly.  It is called…SUNDAY BEST and will be on ebay very soon.  Working on that now…
Berea is known for it's arts, crafts and a HUGE Artisan Center!!! It is really cool and full of fun and unique items.  We thought it was a little on the pricey side but still – so much fun to shop!!!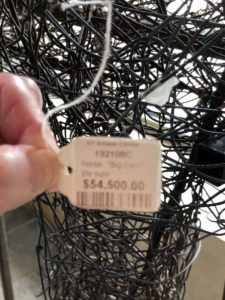 hahaha – this was not representative of the items in the center…but a show stopper for KY where the women are fast and the horses are pretty – or the other way around if you prefer…LOL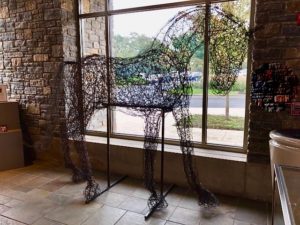 This was the general vibe…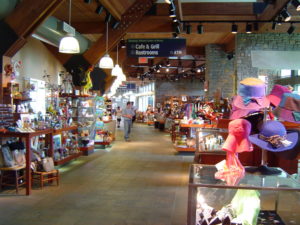 There is another street full of shops.  It is a wonderful quaint little town with so much history.  We spent 2 nights.
If you go don't miss the Fudge shop…hehehe – it is a stones throw from the Boone Tavern…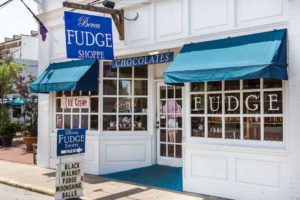 Can you even imagine eating a few bourbon balls from this place???  Well, let me tell you we were happy KY girls! You can see the blue sign of the Fudge Shop behind me on the left!  Yes, it is that close!!!  Daisy Lynn and I are on the walkway up to the Tavern.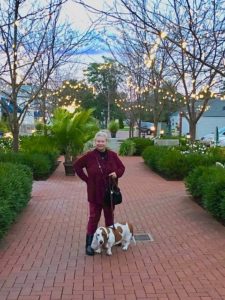 Tomorrow we leave for Nashville, IN.  It is in Brown County and we are staying at the Brown County State Park.  People refer to it as "Little Gatlinburg, TN"…
More moving on down the road and across to a new state later…Love, Cat, Daisy Lynn (Chaps and Emma ATB who were so good at staying in hotel rooms when Mommy and Grandma would go to a meal…hehehe)