April 30th, 2009 - 5:05 pm KY Time
Howllo Fellow Verna and digging for worm lovers!
I just had to show you guys this picture! It has been pouring rain which is good for worm hunting. Look how wet our Verna is! She rarely sits on the nest any more but today she guarded her flock from the downpour! She is so smart. She built her nest under my back porch roof. The rain was blowing, that is why she is so wet! I just love Moms so much. Nothing is better than a Mom.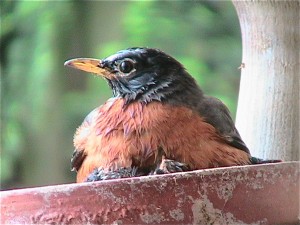 Those are her babies right in the front. I think that she likes that I am another pair of watchful eyes on her kids.
More soaking wet robins later (thank dog they don't smell like soaking wet dogs)………showers predicted for days. Love, Cat, Chaps and Emma

Comments(5)