April 18th, 2017 - 8:08 pm KY Time
Howllow fellow basset hound and walking hound lovers…Well, well, well…this really came up on us fast.
Here is the flier for our next walk.  Print it out and hang it on the fridge at basset hound viewing range!!!  It's their big day…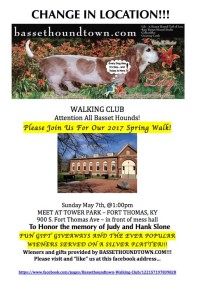 Do any of the resident have plans to attend???  I sure hope so!  We all love it so much..
More getting the wieners ready on the silver platter later…Cat, Daisy Lynn, (Chaps and Emma ATB eating rainbow wieners and walking on clouds…)