August 31st, 2013 - 11:11 pm KY Time
Howllo Fellow Basset Hound and Update Lovers…One Small Step for Daisy Lynn, One Large Step for Mommy Kind!!!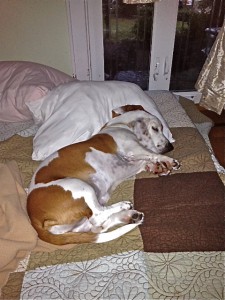 Yes, Daisy Lynn made it through a few claps of thunder in her 7 months being my pup…But tonight we had our first real crashing thunder storm.
She slept through the entire thing.
More loving large steps later….Cat, Daisy Lynn (Chaps and Emma ATB sending the new Mayor nerves of steel)

Comments(2)