April 18th, 2021 - 12:12 pm KY Time
Howllo Fellow Basset Hound and slowing down the time lovers.  I guess we can't do that.  Whatcha all been doing lately?  Lots has happened in ole basset hound town over the past several months.  Not anything earth shattering just everyday stuff.
I got a new mattress in a box…lol  The crowd roars…hehehe
Daisy thought it was a dog bed, and actually I guess it is!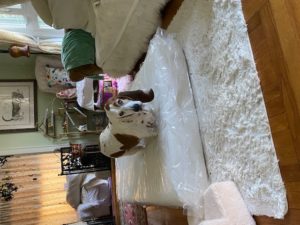 So happy not to have to go to a mattress store…Disrupting this market was a great move.  And…only 150.00 dollars!!!
Grandma and I are still being extremely cautious regarding Covid.  Our health is something we don't want disrupted.  We have so many spring cleaning tasks that we could be home for anther 2 years and not get them all done.
Daisy says, "blah, blah, blah, quit disrupting me – who cares just take a nap with me and get to your tasks later…"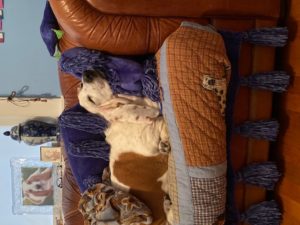 More loving disrupting (somethings) later…Cat, Daisy Lynn, (Chaps and Emma ATB laying on clouds out of a box…";)