September 30th, 2015 - 10:10 am KY Time
Howllo Fellow Basset Hounds and public safety notice lovers.  This is important to share with the residents of our town and please share with your friends and loved ones.  I have been seeing this more and more and it is just heartbreaking.
Last night on facebook Dwayne "The Rock" Johnson posted this…
"Another reminder we have to live and love as greatly as we can today, because tomorrow is never guaranteed.
At approximately 11:15pm last night myself and Lauren Hashian Official had to make the painful decision to end Brutus' suffering by taking him off of life support and sending his soul to pup heaven. I held his lil' paw as he was finally at peace.
As all puppies and dogs do, he ate a mushroom while playing outside with his brother Hobbs. This mushroom happened to have a lethal toxicity and within hours it was rapidly destroying his liver and immune system to the point of no return.
I encourage all of you out there to be mindful of mushrooms in your yards, parks or anywhere outside your dogs play. What looks innocent, can be deadly to your lil' family members.
Thank you Dr. Deckelbaum and Dr. West and the incredibly caring nurses and staff at The Animal Medical Center At Cooper City."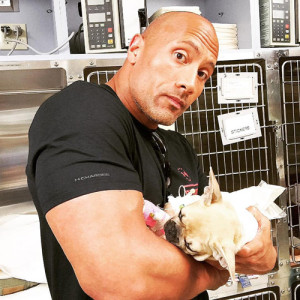 "We'll always love you Brutus.. and you'll always be my lil' main man and rough housing Brute."
This is not a random occurrence unfortunately.  A few weeks ago my friend Ken who is a town resident lost his precious Lemon Drop to this same sad situation.  A toxic mushroom.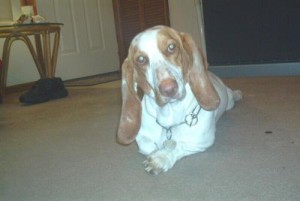 I am so sorry Ken.  So, so, so sorry.  Lemon Drop was one of the first residents to live in bassethoundtown and it is with heavy heart that we bid her good bye.
And there is more concern…
Just this morning this came across the basset hound news wires…
Mushrooms could have killed dog at Saskatoon dog park
Basset hound experienced seizures, died after visit last Monday…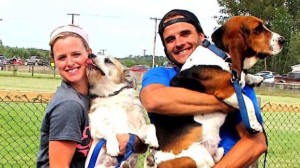 Renae Goudal and Travis Paproski holding their dogs. Paproski is holding "Norman", their basset hound. (Renae Goudal/Facebook)
"A pathologist still has not confirmed what killed Norman, a five-year-old basset hound, in Saskatoon last week.
The dog's owner, Renae Goudal, posted the pathologist's report online.
The report said "two cylindrical white structures about 1.5 cm in diameter and 4 cm long, that may be the stalks of mushrooms" were found in the dog's stomach.
The report goes on to say that it's difficult to determine what type of mushrooms they are since they were partially digested. 
It added that a toxicologist says there was another case of "mushroom intoxication" this year, and that mushrooms have been "unusually plentiful." 
Strychine and another toxin, ethylene glycol, were ruled out. 
Goudal said she is considering more testing to possibly rule out different poisons or determine the species of mushroom. 
The pathologist's report said the dog's frozen stomach content has been retained to explore other methods of identification." – end of article…
I have seen mushrooms everywhere in bassethoundtown.  Look, just this morning these patches came up in our own yard –
See Mayor Daisy Lynn in the window?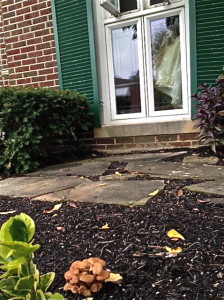 Do your part ASAP – Go look in your yard and surrounding areas for mushrooms.  Use your pooper scooper or like me a mini rake and pan and get rid of them.
You may just save a few lives…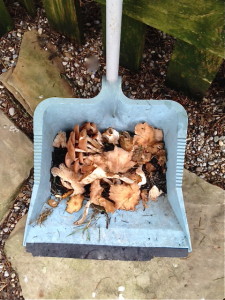 More loving spreading safety alerts later…Cat, Daisy Lynn (Chaps and Emma thanking the Mayor…)

Comments(4)