July 6th, 2020 - 8:08 am KY Time
Howllow Fellow Basset Hound and long hair lovers.  It has been kinda fun seeing everyone without going to the beauty salon to visit their beauty operator!  Remember when people used to use those terms?  Yeah…not feeling the beauty salon yet.  I typically go to great clips but I am going to wait awhile.  Too many folks are not following the guidelines of wearing a mask or when some are made to do so by their employers they seem so angry.  I do not want an angry person with scissors near my head.
I will just go with the long hair flow for now…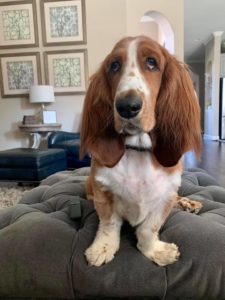 "I just can't do a thing with my hair!" 
OMDOG…have you ever seen someone so beautiful long flowing ears?
Embrace the change…
More loving long hair later…Cat, Daisy Lynn, (Chaps and Emma ATB with fluffy butts not waiting in line for their beauty operators…)