January 31st, 2017 - 7:07 pm KY Time
Howllo Fellow Basset Hound and Mother/Doghter matching snood lovers…As many of the residents know I have been designing and selling lines of snoods for about a decade or more.  I have stunning snoods in my inventory and will be adding them over time.
But for now!  Feast your eyes on this ensemble!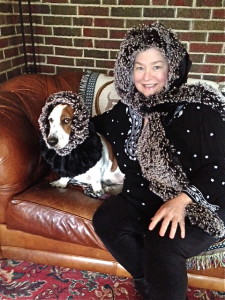 Mayor Daisy Lynn and I are modeling faux black mink and faux grey chinchilla snoods.  Mine is reversible and is so warm you would not believe it.  Unfortunately, my human snood is just a prototype but I am looking for more of the exact material.
Pretty cute huh?
More loving Mother/Doghter matching snoods later…Cat, Daisy Lynn (Chaps and Emma ATB wearing rainbow snoods…)