March 28th, 2016 - 7:07 pm KY Time
Howllow Fellow Basset Hound and Easter 2016 Lovers…Do you guys remember Edwardo?  Our fun and silly salamander?  Well, this guy looks a little to little to be Edwardo but we think it is his son or grand daughter???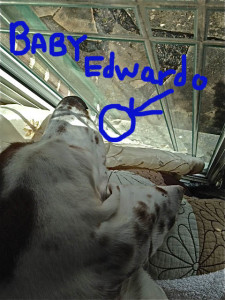 I had just finished brushing Daisy Lynn's teeth and I was petting her and telling her about our schedule for Easter day and little Edwardo jumped up on that sill and was so cute looking right at us!  Just darling.  Then baby just laid on her/his stoop like Daisy Lynn lays on her.  What an Easter joy…
First off we caught a few rays on the back porch…
Just look at those little sweet neck bags.  They make me melt!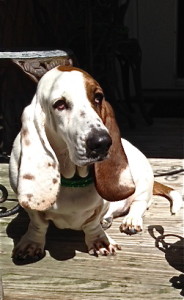 Then we proceeded to Ault Park in Cincinnati to view the Cherry Blossom trees.  We decided that we are going to do this every Easter.  What a great tradition.  Ault Park has acres of Cherry Trees. It really is an amazing experience.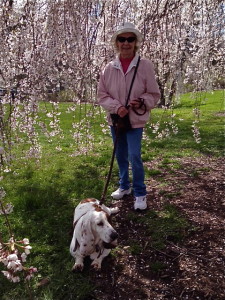 What a great picture and a great day.
More loving Edwardo, Easter, and Eggs later…Cat, Daisy Lynn (Chaps and Emma ATB where there are rainbow salamanders…)

Comments(5)