July 30th, 2012 - 9:09 pm KY Time
Howllo Fellow Basset Hound and Howling Lovers…Well, today I had to go out and get a few of Chaps prescriptions filled.  Grandma babysat and took a few video clips from her IPhone.  There are 5 clips.  I love them!  They are all each about 15 seconds long.
I wanted to add them all to one YouTube video but I was having trouble.  This is all a bit new to us working with these IPhone video clips but we love them.
Why he was howl crying for me with his Grandma right by is side is kind of a mystery.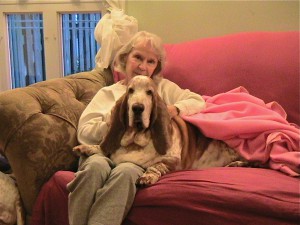 Here he is with his Grandma years ago.  Just darling….I wonder if himz is spoiled?
He was probably just used to me never leaving his side for about 7 days now.
The stitches will come out a week from today.
The healing continues….
More hovering later…Love, Cat, Chaps, Grandma and Emma ATB
PS – I stopped and bought him some Belgium Butter Cookies on my way home…hehehe

Comments(14)