CLICK HERE TO SEE THE AWARD WE WON!
GOLD RUSH, GOLD RUSH, GOLD RUSH
Starting with the first day of spring and running like the cold mountain streams until the end of Fall, Devon and I are announcing our first ever:
GOLD RUSH!
Thar's gold in them thar jewelery boxes!
Send your old gold or precious stones to:

Chaps W. Rudert, Mayor
BASSET HOUND TOWN
P.O. BOX 347
FT. THOMAS, KY 41075
ITEMS THAT ARE NOT SCRAPPED WILL BE AVAILABLE FOR PURCHASE IN THE HOP MAIN STREET BOUTIQUE ON THIS WEBSITE. 100% OF EVERY SALE FROM THE HOP BOUTIQUE WILL GO DIRECTLY INTO THE HOP PAYPAL ACCOUNT. HERE IS THE LINK TO THE HOP BOUTIQUE! YOU WILL NOT BELIEVE YOUR EYES!
THESE ARE ITEMS THAT WERE SCRAPPED
10-10-08 – Jenny, Miss Kitty, Abby and Diva Angel Penny sent in their stash over a week ago. I had to close the trading post for a bit due to our Emma's surgery, but it was back open today and I galloped off to the Jewelry store to get some loot! Yee Haw!
Here is what Jenny and her kids donated and the HopPers cannot thank you enough. Times are ruff and it is folks like this that keep the wagon wheels turning at the HOP!
Here is what the 10K and 14K haul brought in: 186.90!!!!!!!!!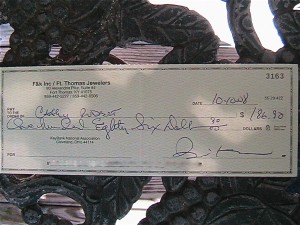 Here are the stones that were extracted from the bracelets. The large citrine Jen sent loose. I am going to use all of the loose stones in different ways to make more money for the HOP. I have some really cute ideas and I will have some of the new items listed in the HOP boutique section very shortly for your holiday shopping pleasure. Please feel free to browse around anytime. We are open 24/7!
CLICK HERE TO GO TO THE HOP BOUTIQUE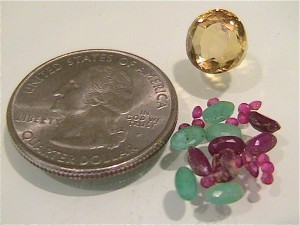 Here is a link to the Gold Rush Firstgiving page is you want to see all of the bassetabulous donations!
GOLD RUSH FIRSTGIVING PAGE CLICK HERE
More fun later…….Cat, Chaps and Emma
9-25-08 – Devon Leigh Smith sent in a 14K gold band, 14K gold ring with 21 point diamond worth 94.00. She also sent in a fun costume piece that will be up for grabs in the HOP boutique this Holiday season.
9-25-08 – Virginia Oliveira sent 14K gold that was worth 83.00. The items that were not gold are going to be used in some fashion. I am very creative and plan on making money for the HOP anyway I can!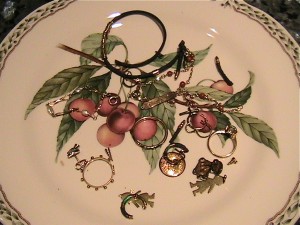 9-25-08 – Fleur, Monty and Helen sent a charm, and 2 chains worth 35.00. I will be loading other costume items into the HOP boutique soon! FYI – perfect for a secret Santa gift!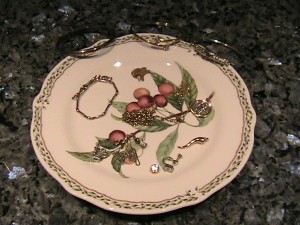 8-24-08 – TOM FROM WI
Howllo Fellow Hound and Gold Rush Lovers: I took Tom from WI's ring in today! It brought in a whopping 70.00 dollars!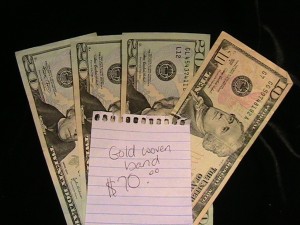 That is just totally goldtastic for the golden oldies of the House of Puddles!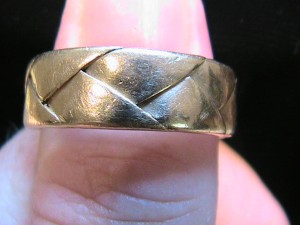 Do you want to take a look at the our Firstgiving page? CLICK HERE!

Chaps loves the smell of gold in the morning!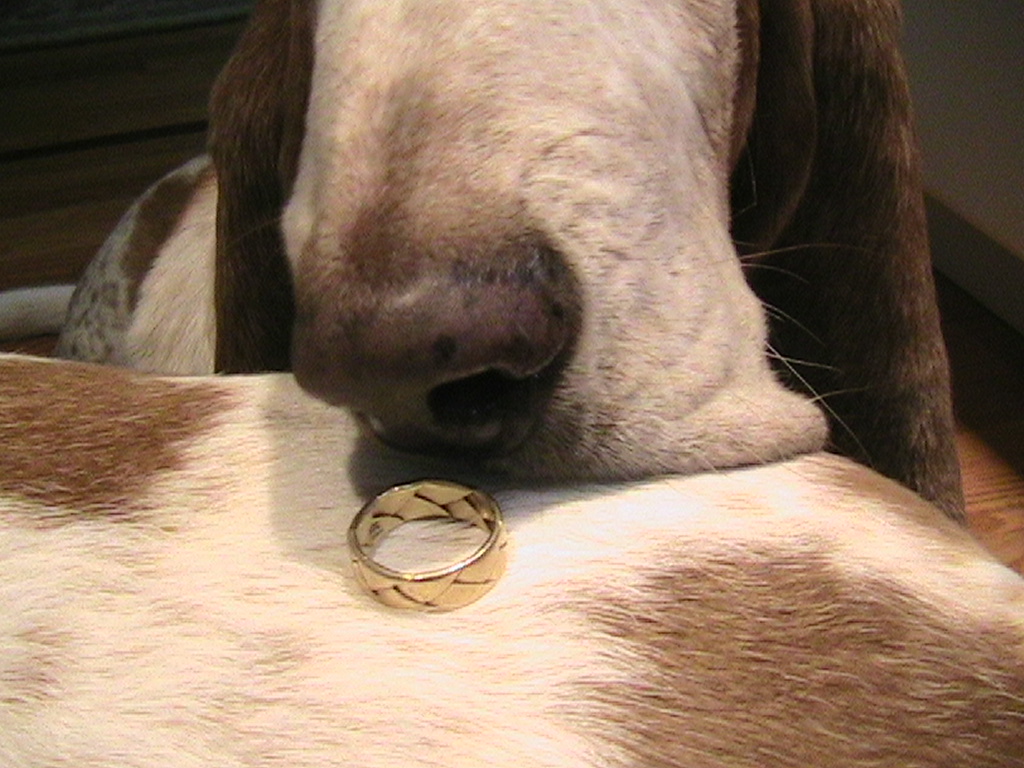 Tom if you are reading this I would love to send you a free gift from the Devon and Cat gift center! You can click on the Firstgiving link and see the 2 items. One is a Devon's dream necklace and the other gift is a 10 pack of Lily greeting cards.
We love our Firstgivers and we prove it! LOL
OK folks, the Gold Rush will be officially over on August the 31st. I will be changing the theme of the Firstgiving page.
Stay tuned for the next fun filled event!
More fun later….Cat, Chaps and Emma
P.S. I will never turn away gold. Don't worry! Cat
7-14-08 – MARY TIPPING, TIPS THE GOLD RUSH SCALES!
Our friends, Mary, Harley, Biggs, Leo (the foster no longer!!) and the Kitties too of the Tipping Family and of TriState Basset Hound Rescue sent us a pan of gold for the House of Puddles! What a fantastic pan and we are Tipping our gold miner's hats to you Mary!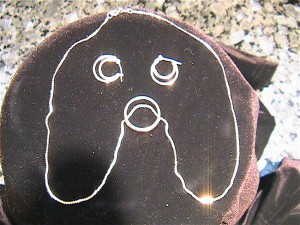 The choker chain was 18K and the loop earrings and gold band were 14K. This pan of gold brought in 49.00 dollars. Wow! I am just thrilled and I know Marilyn and Mary will be as well. Here is the link to the HOP Gold Rush Firstgiving page so you can see this donation and others. Read all of the update and most of all….Please check your jewelery boxes!
Thank you Mary. We love you!
More Gold and Love Later….Cat, Chaps and Emma
6-30-08 – GOLD MAKES HOP'S DAY GOLDEN!
Howllo Fellow Hound and Golden Day Lovers: Basset hound town has received another package of gold from:
Beverly Burkholder of AZ Basset Hound Rescue!
Our new friend Beverly loves the Seniors and dug deep into her jewelry box.
Look at the haul!!!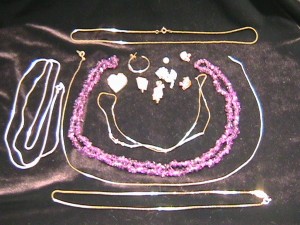 Well, we just got back from the jewelery store and the 14K gold in this grouping brought in 60.00! We are thrilled beyond words! This is just golden!
CLICK HERE TO SEE OUR FIRST GIVING PAGE WITH BEVERLY'S DONATION!
Three of the items which were not gold are currently in the HOP boutique for sale. 100% of each sale will go to the House of Puddles.
When you buy an item in the HOP boutique on my website you are adding the items to the HOP PayPal account. I never see one cent! Just like I like it! hehehehe!
So…. Here are the links to the items from this grouping that were not gold. Shopping never felt soooo goood!
SUPER SWEET SMELLING FLOWER PIN
STERLING SLOBBER BOX CHAIN NECKLACK
Beverly, thank you so much! Your donation will keep giving. The items are slobberific and bassetabulous. We cannot thank you enough!
More gold later….HOPEFULLY! Love, Cat, Chaps and Emma
6-17-08 – Howllo Fellow Hound and Gold Rush lovers: I FINALLY have the gold rush totals for this totally pawsome package that Marty Clark sent to me for the gold rush. Marty is a BROOD volunteer. Please check out Brood's website at:
BASSET HOUND RESCUE OF OLD DOMINION
Marty, your items were so bassetabulous and get this!
They were worth 115.00! Some of the items were not gold so I donated them to the breast cancer costume jewelery box at the jewelry store I go to.

These are the items that Marty donated. Most of the gold was 18K which brings in more doe! Yipeeeeeeeeeeeee! Also, as you can see, there is a chain at the very bottom that was 14K.



This was a wonderful donation from a Brood volunteer. These items were 18K and help out the House of Puddles in a huge way!
That cool pink pin was broken but the gold was 18K. I had them pop out the center piece and I want to use it in the future for something! I think it looks like Marilyn! What do you think?

The other items were costume but hey, I beg for these pieces because you just never know!
These three pieces were donated to the breast cancer awareness box. Many of our regional jewelry stores have them and they fix the pieces and donate them to women who are going through chemo. It helps to have a pretty piece like one of these to ease the pain. I love that idea!
Thank you Marty, your donation will be sent to the HOP and 100% will go to the elder hounds. Basset hound town loves you for this and I know HOP does as well.
Please remember, you do not need to donate gold to give to the HOP Gold Rush! You can simply go to Firstgiving and give! Here is the link!
Firstgiving page for the Gold Rush!
More good news later….Cat, Chaps and Emma
5-31-08 – Record Breaking Gold Rush Donation just in from Annika Francis:
Howllo Fellow Hound and record breaking lovers! Breaking news just in! I received a package in the mail today from Annika of Oak Hill VA. This is her hound Murphy! He is so excited about the gold rush!

These packages are always so much fun to open and drool over! The total for the gold that I turned in from Annika is….Drum roll please:
$381.90 – PLEASE CHECK OUT OUR FIRSTGIVING PAGE!


OMG, OMG, OMG! This is not it folks, I am selling items in the HOP boutique sent from Annika that could raise over $200.00 or more!
KEEP READING AND SHOPPING!


As you can see, it is quite the bounty! Gold was down a little bit today, but my jeweler gave me the going rate from last week since this was all going to charity! Thanks Renee and Vince of Ft. Thomas Jewelers!
Within this bounty is a platinum ring with 2 large pink sapphires. This item alone brought in a whopping $244.80 dollars!

The middle stone was missing and reported as such by Annika. Folks, my jeweler's jaw dropped when I pulled this out of the bag for him to price. He said, "My goodness, basset hound people are so generous!" Annika, we cannot thank you enough. I had my jeweler remove the pink sapphires and I will add them to the container charm I am working on for the end of gold rush auction.
Yes folks, for those of you with an eagle eye, that is a basset hound 14K gold charm. Of course Annika did not send this golden hound to be scrapped, that would be sacrilegious! This golden hound is in the HOP gift shop.
SOLD – SOLD – SOLD – TO MY MOM AND DAD FOR MY CHRISTMAS GIFT! YEE HA!
Annika's donation has now reached 476.90!
Check this out. (THIS IS JUST A COMPARISON LINK!) It is the same basset hound charm that Annika donated!

I found the exact same charm on the internet and it goes for 186.35!
Here is the link to the HOP boutique on my site if you wish to purchase it.
We are offering it for the low, low price of 95.00.
This includes a free 10 pack of
basset hound town greeting cards, a 20.00 value.
100% of the sale will go to the HOP. When you purchase this charm on my site the money will go directly to HOP. Marilyn will e-mail me and I will mail you the charm and the greeting cards.

Moving right along, Annika sent another charm that was toooooo cute to scrap. It is a small 14K gold teddy bear! It is adorable. It is hollow. The detail is fantastic and the fun factor is off the charts!

Look at this little buddy! How cute is this? Folks, I cannot find anything this cute on the internet. Anything remotely similar is about 140.00. This is a dandy item! Look, the Teddy has a bow tie on! How cute! None of the charms are near this size or in this 3D detail. It is hollow, but it is big and in perfect shape. I am going to sell it for the same price as the basset charm and offer the basset hound town greeting card package. Here is the link:

We also have these 4 charms (2 of each) in the HOP boutique. I just love them. Where there is gold on the charm, it is 14K. The charms are cloisonne balls and cubic zirconia hearts. I just love them. (did I already say that?) LOL! Here is the link to their page in the HOP boutique.
LINK TO PAWSOME CHARMS! (still working, looking for pricing)
What a wonderful way to end the week! This donation is just pawsome and it will keep on giving! Please shop HOP on my website! It is the perfect way to donate your money. 100% goes to HOP paypal. It is my honor and pleasure to help out in this fashion.
You keep giving and I will keep HopPing to the jewelery store!
More HopPing Later…Cat, Chaps and Emma
5-27-08 – As promised I am updating the Gold Rush Trading Post with amounts from Kacy and Sharyn.
On 5-20-08 I posted that I received two packages. You can see the original post right below this one.


The first package was from Kacy and Cowboy of San Diego, CA. They are right in the heart of gold rush country. This picture is of the grouping!
This is our Cowboy!

The items were hauled into the weighing area and a grand total of 22.00 was handed over! Yeehaw!


The small charm was plated but the opal was real and I am using it in a charm I am designing. The ring was plated but the topaz was real and again, I am using it in a charm that I will sell for the HOP.
The necklace was 10K with 20 one point diamonds. That was worth 22.00! The chain was gold colored metal.
Hey folks, send me any and everything! I want it all. Every penny counts when old hounds are concerned!
Now for the second package from Sharyn of Lancaster, PA!
This is Sharyn's second gold package for HOP! She found some more gold in her covered wagon and sent it on down the doggie trail!


Check out these three gold charms. The wishbone and lightening bolt were 10K. The small flower charm was 14K.


This is the grouping that Sharyn sent. The 14K swirl pin with pearls on the left is going into the HOP boutique. The pin next to it was 10K. The two tack pins were not gold. The heart pin was 14K. The charms on the bottom row are listed above.
Sharyn's haul brought in 33.10 for the HOP, not counting the 14K swirl pin with pearls on the extreme left that my jeweler thinks should fetch 30.00 dollars! It really is nice folks. Very dainty and very nice! Here is the Link to the HOP boutique and the,
Currently, the total that these two packages brought in is: 65.10!
Remember, this does not count Sharyn's 14K antique swirl pin with pearl! It is stunning! I am loading it into the HOP boutique for 30.00! A steal!
More Gold News Later….Cat, Chaps and Emma
5-20-08 – Original post

Howllo Fellow Hound and Gold Lovers! I went to my PO Box today and received two more packages. One is from Sharyn, (her second package), and other is from Cowboy and Kacy! I cannot wait to photograph everything tonight and get to the jewelry store ASAP.
I just want everyone to know that the gold is still rollin', rollin' in!
We cannot thank our residents enough. This is truly touching and amazing.
Do you have old gold or stones? Heck, I am even collecting sterling flatware! If you do please send it to:
Chaps Wayne Rudert,
Mayor – Basset hound town
P.O. Box 347
Ft. Thomas KY 41075
More Later…Cat, Chaps and Emma
5-20-08 LYNDA SEAL
Howllo Fellow Hound and gold watch lovers! Our friend Lynda Seal of AZBR sent in a package of gold and 2 golden watches for the House of Puddles Gold Rush. Her gold package was valued at 50.00 and is currently reflected on the firstgiving page.
Well, I just got to the watch shop today to obtain the value of the watches.

The larger one that is on the far left was worth 24.00 and that was for the casing only. The band was not gold. The two in the middle were not gold. The smaller one that is on the right of the watch grouping dated back to the late 1800s was only worth 2.00 for it's parts, but every cent counts folks.
You guys would not have believed this watch shop and jewelery store. It is a few towns over but it is like stepping back in time. It was so cool. They are called Cleves and Lonneman. I cannot wait to go back. They also take sterling silver flatware so send any old pieces of flatware that you have and I will march it down to them for doe! I love this place and the folks are so nice.
As an aside, you would not believe the people waiting in line to cash in gold and silver. It was kind of odd. I have never seen anything like this in my life.
Lynda, thank you so much. Your donations have totaled close to 80.00 for the HOP. You ROCK!
Want to look at our Firstgiving page? Of course you do!
5-14-08 KELLY CUPPOLETTI
Howllo Fellow Hound and Florida Gold Lovers! I am so touched at how many of you are sending in gold for the House of Puddles! With gas being almost as expensive as gold it is hard for us to donate to our favorite charities. Not so for Kelly, Oreo and Snoopy!


Oreo – "Best as anyone can tell I am a boarder collie mix of some sort! My Mama rescued me from a shelter in north Florida 6 years ago".


Snoopy – "Mama saved me from a man that was gonna send me back to the pound he adopted me from cause he said I was naughty…who me? Mama is pretty sure I am a Bagle (beagle/basset hound mix) cause I am too big to be a beagle and my ears aren't long enough to be a basset!"
Look at this lovely grouping of gold! One piece in the grouping I found very nice, but more about that later.

I hustled right off to my jewelery store to see what the pieces were worth. The jeweler tested the gold and viewed it through a loop and there were 10K and 14K pieces. There was also a beautiful black hills 10K gold ring with a blue topaz stone. Well, I could not take my eyes off that piece.

The gold was worth 58.70! Wow, how bassetabulous is that? Pretty cool!
So, moving on to the ring! My jeweler and I researched it and determined that if the ring was new it could run as high as 100.00 or more. So, like I have done with previous rings I decided to put this ring in the
HOP boutique on my website, for 50.00 which all of the other rings are going for. (I still need to load 3 outstanding rings)
The scrap value of this ring would have been 28.50 for the 10K gold portion, the jeweler did not want the topaz. No way was I going to scrap this pretty little number!
When I got home, my Mom and Dad were looking at the flowers outside our home and I was telling them about the donation. They saw I was wearing the ring and asked me all kinds of questions.

Guess who got her birthday gift early? Me, me, me, me! My Mom and Dad bought the ring for 50.00, for my birthday, exactly one month early! My Mom and Dad were totally jazzed that 100% of their 50.00 is going to the HOP and I am just over the moon. Look how it matches my HOP support bracelet!!!
Kelly, it is so strange how the world works. You donated the ring to support the HOP thinking it would be scrapped, and now it is a treasured gift from my Mom and Dad that I will alway love. Every time I look at it I think of the elders at the HOP! How wonderful is that?
This will be recorded on the FirstGiving page as an offline donation so I can add a bit more detail to the description. I will send Marilyn a check for 110.00 on 5-15-08.
I love a black hills gold, blue topaz, happy ending. I also love Florida Gold!
More Later…Cat, Chaps and Emma
P.S. There was also a little charm with 3 tiny diamonds that I did not scrap. That will be in the HOP boutique as well very soon. I am waiting for a gold chain to come in that it fits. This item will be a stunner! I will keep you all posted. Kelly's FL gold keeps on giving!
5-13-08 LYNDA SEAL
Howllo Fellow Hound and AZ Gold Lovers:

Our dear friend Lynda of Arizona Basset Hound Rescue has sent in a phenomenal package of gold and old watches for the House of Puddles Gold Rush. She sent it in weeks ago, but due to my Shingles malady I was remiss on getting it priced out. As you can see it is rather a large haul that took time to photograph and research at the jewlery store. Yummy!