December 24th, 2019 - 3:03 pm KY Time
Howllow fellow basset hound and howl low day lovers…Wow, I have recently upgraded the ole Iphone to the 11 Pro Max with the 3 camera lenses.  I still don't fully know howl to use it but here are some to feast your eyes on!  hahaha
I call this dashing through the snow.  Wow, we went to a boutique hotel a town over called Covington and they had Santa's sleigh in the lobby!  Howl lucky were we.  The reason we went is because they allow dogs in the bar area and lobby.  What a great treat!!!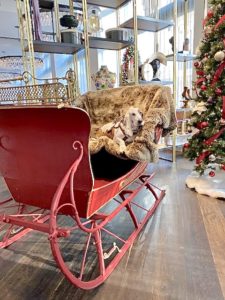 Then we popped over to another boutique hotel in Cincinnati called 21C.  They also allow dogs in the lobby.  This one is called…taking over Santa's couch!  hahaha.  This is the third picture in the 21C couch series for KYbassethoundrescue.  OMGAWD!!!  So…cute!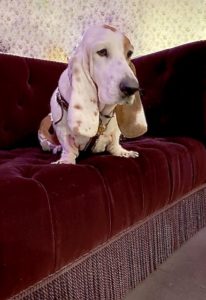 Every year Grandma and I do a tour of our home town and view the Christmas lights.  This year we had the new cameras.  Look at #bassethoundtown.  It's looks different because we had to have our beloved weeping cherry tree removed.  So sad but it did open up the front of our home.  The camera has that night vision feature.  Pretty cool huh?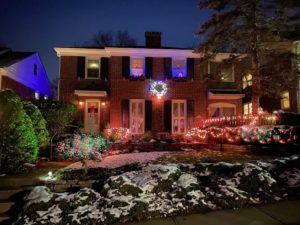 Now moving inside – the decorating is now complete as of 12-24-19!  hahahaha – I think this was taken with the wide angle feature.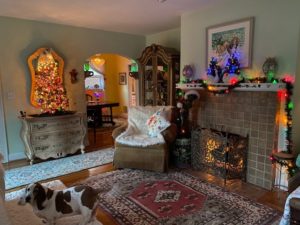 One final picture from the session…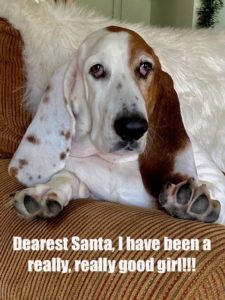 Come on!  It can't get much cuter!  She is killing me!
We sure hope all of the residents have a healthy, happy and safe Howl low day and a wonderful new year.
2020 here we come…
More looking forward to the new year later (and learning howl to use the new phone)…Cat, Daisy Lynn and Chaps and Emma ATB needing the wide angle feature;)