February 9th, 2020 - 3:03 pm KY Time
Howllow Fellow Snow Sculpture and Basset Hound Lovers…
OK, let's combine the two and you get "Nice To Meet You!"  Second place winner at the annual International Snow Sculpture Championships in Breckenridge CO.  This event has been going on 30 years folks!!!
Blocks of snow were delivered to 16 different countries on day one.  I am pretty sure you can see where I am going with this one!  OMGAWD!!!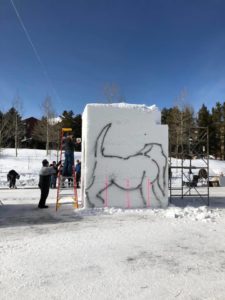 I took this blurb from their facebook page…
"For 30 years teams of artists have come from all over the world to transform 25-ton, 12′ tall blocks of snow into masterpieces in just over 65 hours. From blocks of snow, into intricate snow sculptures. Artists are only allowed to use hand tools, creativity, and inspiration to bring their ideas to life. No power tools allowed! See this magnificent event in person in beautiful Breckenridge. The sculptures are brought vividly to life at night when the lights come on! Blues, reds, greens, and yellows highlight and underscore the design and feeling of each sculpture. Watch the interplay of light and shadow, day and night. It's truly a feast for the eyes and warms the soul.
This is a FREE non-ticketed event. It is also a dog-friendly (on leash) event."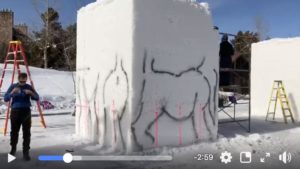 I saw a few pictures of this sculpture on facebook but not nearly enough so I did a research project on it and tried to find out as much as possible for my #bassethoundtown loving friends.  Who are these British artists? I spent about an hour or so sniffing around the internet.  Nothing…
With all of my research I can't find out anything about this award winning second place team or if any of them have a basset or the inspiration for the sculpture.  I think the facebook page and the town page really missed out by not featuring the artists and their profiles.  I think they should have flown me in!
Here we have a basset hound rump roast coming into form.  Nice…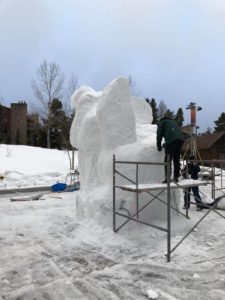 I think this might be some darling wrinkles.
The whole thing is coming into extreme focus!!! Sniff, sniff, sniff…
Whoever sculpted the rump roast area has to have a basset hound.  OMGAWD!!!  Could it be any cuter?
NICE TO MEET YOU!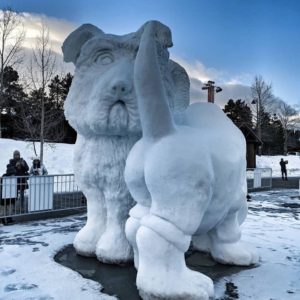 Now for the full frontal!  hahaha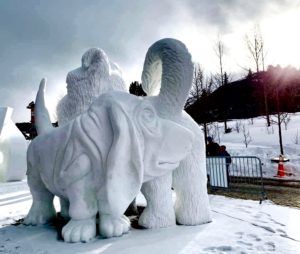 "Winning silver was a team from Great Britain with its amusing sculpture, Nice to Meet You, which depicts two playful pups "greeting each other in the way that dogs always do." The team was composed of captain Philippa Unwin, Mark Luscombe, Patrick Barker and Andy Clark."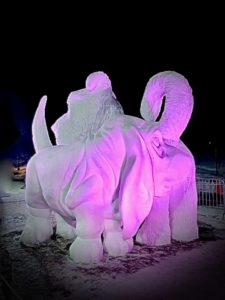 The sculptures are all lit up at night.  I bet it is alot of fun.  I should have been flown out to report on this event for the basset lovers of the world.  I would have gotten to the BOTTOM of this "nice to meet you" sensation.  I could have even matched it at night!
#snowbassetbunny #humansnood Exclusively designed by moi for #KYbassethoundrescue!!!  This is just a prototype.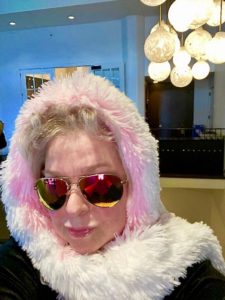 Reporting live from not Breckenridge, Cat Rudert "nice to meet you"!
More loving reporting later…Cat, Daisy Lynn, (Chaps and Emma ATB on snowy ice clouds winning first place;)