May 24th, 2020 - 9:09 am KY Time
Howllo Fellow Basset Hound and the end of the 30s lock down notes lovers…This is going to be sooooooo much fun!!!
Wednesday April 22 – Day 37
Started off the day making cheese sauce, jalapeno and cheese bagels, and received my monthly cheese shipment.
I then went to read the news and saw this VOX headline…
"French told to eat more cheese as pandemic causes sales to plunge 60%" – Vox
This Headline is frightening.
Can Headlines get any worse?
Thursday April 23 – Day 38
Yes, yes they can…
"Instead of the coronavirus, the hunger will kill us".  A Global Food Crises Looms…


New York Times
"Fever reading drones to patrol beaches". 

Daytona Herald
I used the cheese sauce I made yesterday for my Pandemic Hot Browns!!!  Don't worry France – We are doing our part in #bassethoundtown…Also, so far the hunger is not killing us in #bassethoundtown.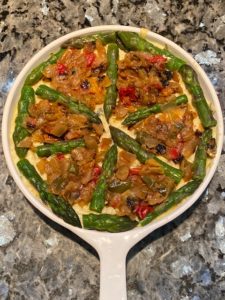 Ahhhhhhh….This is so cute!  I was searching for something on google basset hound related and ran across this picture on Tumbler.  LQQK – its our late Mayor…Chaps Wayne Rudert!!!  People use our images all the time all over the World Wide Web.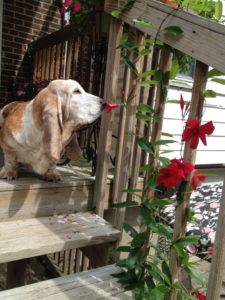 Himz don't care about no fever drones…
Friday April 24, Day 39
When your Mom says you stink, you really stink!  We loaded up Daisy Lynn today for her routine monthly Pampering beauty appointment at her Vet.  They came out and got her.  I hated seeing her led away from us but it was only for about 15 minutes. Bless her heart.  Poor thing hates baths so much that I have to have a medical professional do it.  Pretty sure they did not need any PPE 😉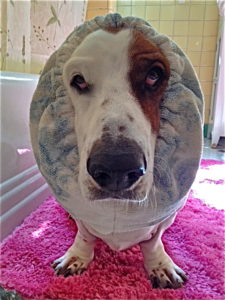 This picture is from a previous bath day cause I was too nervous to take one as I was loading her back up, my mask was slipping and my debt card was going to be touched by a most likely infected hand –  it's all just so crazy.  Anyway – herz was mad at her Mom and Grandma…
I drenched my debt card in hand sanitizer and off we went…
We all decided that we needed a pick me up!!!  Off to Pompillios Italian Restaurant we go for MEATABALLAS (extra cheese please)!!!
On a side note and totally irrelevant but here goes…I can NEVER spell the word restaurant.  I have looked it up a million times and tried to learn it but my mind won't let me.  What is it with that word?  So, I began to wonder what it even means…Do you know?
France, aka eat more cheese…
The word 'Restaurant' derives from the French verb restaurer, meaning to restore. It was first used in France in the 16th century, to describe the thick and cheap soups sold by street vendors that were advertised to restore your health.
That is really cool.  Live and learn.  Wonder if they made these restorative soups from Cheese?  But for now MEATABALLAS!!!
OK, This restorative establishment has a claim to fame.  The toothpick scene from Rain Man was filmed here.  Yes, that is true!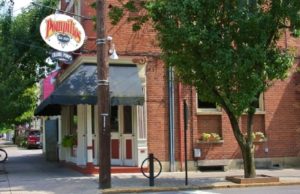 In fact lots of scenes from Rain Man were filmed in and around this area of Northern KY.
So next the key to getting our MEATABALLAS  is dodging the PIT BULLAS – Geezus, if the carona don't get ya the pit bulls might in this neighborhood.  Also, why are these pit bulls never fixed?  You see these giant block head fighting dogs from behind and it makes you want to puke and almost lose your appetite…almost.  Someone needs to grab the owner by the neck and do a Tom Cruise (serious injury) on them.  Rain Man is about a zillion times smarter than the skinny little men (I am being nice) with these bleepin' pits.  They are all walking the streets because the tattoo parlors are shut down.
What a day – Pamper the pooch, Pit Bull Panic, Pancakes, Pompillios and 246 tooth Picks on the floor, oh and the Pandemic.
Iconic scene filmed at the St. Annes convent right down the road…
OK, more loving you dear residents and to be continued later…Cat, Grandma, Daisy Lynn, (Chaps and Emma ATB laying on Pecorino Romano Cheese clouds…doing their part for France)…
PS – Who moved my cheese?