March 30th, 2011 - 7:07 pm KY Time
Howllo Fellow Basset Hound and worried about Emma lovers…..
We had a bit of a scare today when Emma began limping, pretty badly. It really scared us because of her back issues. It might have happened during a run for treats today but we can't really put our fingers on it.
Grandma and I went over every fraction of her paw to see if we could find the problem. Nothing….She did not even whimper when we pressed a little bit. I even had out the trusty magnifying glass to see if I could find a foreign object. NOTHING!
So, Chaps came to the rescue. What a wonderful boy!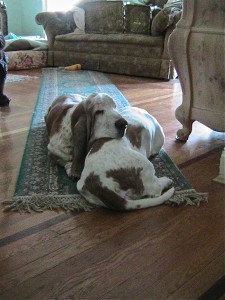 She is all tucked in now and I will update her lovers soon…..
More not too worried about it, later….Cat, Chaps and Emma

Comments(18)