12-25-12 The Mayor, Chaps Wayne Rudert passes away from bloat….
Please click here to see the video and read his obituary.  I will forever be different because he is gone.  The loss was and is crushing…
CHAPS WAYNE RUDERT – CLICK HERE
12-16-12 Make sure you read this entire page for so much information on this very important topic that affects our sweet hounds!
Here is a blog posting I did about our very own Mayor and his bloat incident on 12-14-12.
Here is the bowl that can help slow down a hounds eating.  Eating too fast can lead to bloat.   You have to go to this link and see the mini video of the dog eating from it. It really works.
5-4-08 – Please go to bottom where the links are listed and see this valuable information.Welcome to bassethoundtown.com's medical page on:
BLOAT (Gastric Torsion)
BLOAT IS A MEDICAL EMERGENCY AND YOUR HOUND SHOULD BE RUSHED TO YOUR VET OR EMERGENCY ROOM. CALL FROM YOUR CELL PHONE IN THE CAR AND LET THEM KNOW YOU ARE ON YOUR WAY WITH A BLOATING DOG!!!!
I want to make this information available on my website due to the increased risk our beloved hounds have for this occurrence. A resident basset hound, CoCo experienced this condition and often times these happenings will cause us to research, become more aware, and want to help others from it.
Here is part of the e-mail regarding CoCo.
"Hi Cat~
I was hoping you could do a blog posting about this. If I wouldn't of known that Coco had bloat (from being around bassets at the ranch) I would of had no idea what it was or what to do and she probably wouldn't be here right now. We fed her steak that day and from now on she gets 2 SMALL meals and a snack…no more people food. Also, her stomach only twisted once, so it was easier to save her because we got her to emergency right away. They can die within 1 hour if left untreated or not noticed. The surgery ranges from $5,000-7,000 and most people cannot afford to get the surgery done no matter how much they love their dog. 🙁 We actually couldn't afford it either, but found a way! THANK GOD! I really feel that very small meals with something in their bowl to slow their eating down and NO EXERCISE 2 hours BEFORE or AFTER they eat is very important. I was also told that if you realize they have bloat, to give them a Gas-X right away and get them to your vet or emergency vet RIGHT AWAY. Of course, prevention is the key. Unfortunately, sometimes the stomach twists more than once and they cannot be saved… 🙁 I feel the more people know about this and are informed, the more hounds that will be saved.
Bloat (Gastric torsion) The stomach twists and traps gas inside, causing extreme pain. Unless treated quickly, death may result. Avoid exercise after eating. Placing a very large rock in a Basset's feeding bowl to slow down eating and swallowing air, may help prevent bloat in some cases
Bloat – Bloat is another term used to describe gastric dilatation. It is a life-threatening condition in which a dog's stomach fills up with swallowed air and then rotates. A dog normally swallows air during exercise or strenuous activity or when a dog swallows food or water. However, the swallowed air should be released through burp or else bloat develops. Bloat may quickly result in death because once the stomach has rotated, the blood supply is cut off and the dog's condition declines quickly. A swollen belly and non-productive vomiting and retching indicate this disease. Another indications include restlessness, abdominal pain, rapid and shallow breathing and profuse drooling.
This disease can be easily prevented. To prevent bloat from developing, veterinarians recommend dog owners to feed their Basset Hound two to three small meals a day instead of the usual one large meal. Giving water during meals or immediately after feeding is not advisable. After meal, wait for a while before allowing your dog to drink water. Avoiding strenuous activities before and after eating is also recommended."
OTHER RESOURCES ABOUT BLOAT:

Bloat In Dogs: www.globalspan.net/bloat.htm
A Tricky Problem For Dogs: www.cvm.uiuc.edu/petcolumns/showarticle.cfm?id=5
Stomach Bloat In Dogs:
www.adoptagolden.com/k9stuff/vetcorner/bloat.htm
Dog Owner's Guide on Bloat:
www.canismajor.com/dog/bloat.html
Gastric Torsion/Bloat: www.woodhavenlabs.com/bloat.html

Bloat: www.homevet.com/petcare/bloat.html
Notes On Bloat: www.cyberpet.com/cyberdog/articles/health/bloat.htm
CoCo's first belly up after her bloat surgery:

More Later…Cat, Chaps and Emma
5-4-08 – UPDATED BLOAT INFORMATION:
Someone posted a link on the Daily Drool about the signs of bloat and I printed it out and taped it to the inside of my kitchen cabinet for emergencies. I'm not sure if that link was included in your info but it's called "Quick Reference Guide for GDV." It lists all the symptoms and what is happening to the dog and what steps you should take. I feel better having it because I know I won't be thinking clearly if this happens to one of my hounds.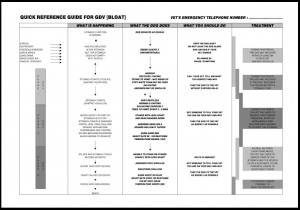 HERE IS ANOTHER IMPORTANT LINK TO READ REGARDING BLOAT: